Lots of TAAFI stuff to share as it looms ahead of us this week.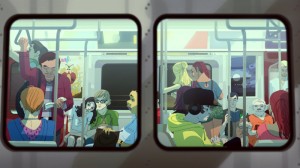 One of the coolest things I've seen in a while is the 30 second bumper that TAAFI commissioned Sam Chou's company, Style5, to produce.  Its not available for viewing anywhere yet, but I managed to score a sneak peek about a week ago.  It's along the lines of an anijam, a mashup of artists and styles doing their part to represent Toronto to the animation world.  There's a write-up by Sam over on the TAAFI blog, along with credits and stills from each of the contributors.
The artists involved are: Seo Kim, W. Scott Forbes, Sean Branigan, Tabitha Fisher, Marko Bajic, Andre Guindi, Brentton Barkman, Lettie Lo, and, of course, Sam Chou.
The National Post regurgitated the info over on their site, which is some pretty impressive coverage for the new festival.
And John K, honoured attendee and presenter, posted about the story workshop he's running.  Also, he's looking for volunteers.
TAAFI also got some great coverage on Electric Playground.

And finally, here's a quick peek at the Sponsor Film that Tinman Creative whipped up for the show: