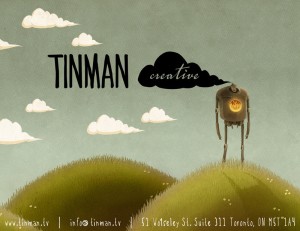 Lovely film by Tinman Creative for the 2012 sponsor reel.  Actual narrative.
Here's what they had to say about the film on their blog:
We had the privilege of creating the Sponsorship Film for this year's Toronto Animated Arts Festival International, otherwise known as TAAFI.
This was the first year of the Festival, and it focused on the history of the Toronto Animation Industry. So in that spirit, Tinman's Brett Jubinville created Johnny, an animated cartoon character, who tells his story of working in the Toronto Animation Industry to our mock-documentary crew.
The film screened in two versions during the festival, the long version here, and a shorter version which featured Johnny's huge breakout hit, the commercial for Maple Sugar Beaver Bombs, a high sugar, Canadian themed (Bacon Flavoured Marshmallows!) fictitious cereal.