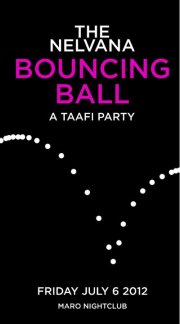 One more update from TAAFI, they're kicking things off this Friday with the cleverly-named Bouncing Ball, sponsored by Nelvana.
Here's the write-up from the TAAFI site:
Squash and stretch your legs at the biggest animation party in Toronto!
Following TAAFI's North American Premiere of Ronal the Barbarian in 3D, the party moves over to Toronto's hottest nightclub, MARO Nightclub (135 Liberty Street Toronto) for drinks, dancing and a little bit of schmoozey-schmooze with your favourite people.
We packed the house with over 700 people at our 2011 Industry Night but this time we are at a BIGGER location, and we're adding drink tickets, and amazing food to the menu, making The Nelvana Bouncing Ball at MARO the hottest ticket in town. This will be the stuff of legend.
What's going to be happening?
MEET all your fellow industry friends and rub elbows with your animation heroes DRINK our Founding Sponsors signature cocktail: The Polar-Bear Martini WATCH hypnotizing animation from around the world on our big screen, presented by Stash Media DANCE because DJ STORMEE is back! EAT glorious grub to keep the night going strong!
When: Friday, July 6th at 9PM.
Where: Maro Nightclub, 135 Liberty St
How: $15 in advance online or $20 at the door. Admission includes one drink ticket. Tickets can be purchased online or by calling the TIFF box office 416-599-TIFF (8433)
Pass-holders have The Nelvana Bouncing Ball TAAFI Party ticket included with their Pass; reserve Pass tickets through the TIFF Box Office.