Last updated on September 23, 2012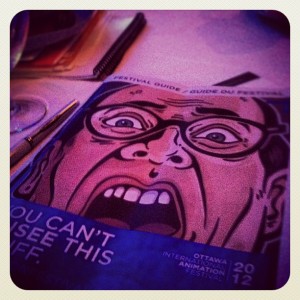 It's been a crazy few days in Ottawa already, and for a good chunk of the attendess, the festival really kicks in today.  The lack of updates is a good sign, because it means we're too busy actually enjoying the show.  But fear not, we'll do our best to share a few highlights.  It's strange for me, an attendee since 1992, to find that this year my schedule is leaning way more heavily to TAC, the Television Animation Conference, than the festival proper.   I did have a chance to sit in on the Genndy Tartakovsky masterclass yesrterday, and Tom McGillis' showrunner panel was informative and entertaining (who knew Nanalan was so funny?).  Another event, that will go un-named, provided a golden moment of publicly painful awkwardness that I can only describe as Ricky Gervaisian in scale.  That story is going to be one you'll have to ask me about in person, however.
The Animators picnic is today, so there will be a lot of friends reconnecting, as the "tribe" comes together.  If anyone else out there wants to share their thoughts on this years festival, we'd love to hear them.  And if you see me, please say hi!
In the meantime, here's a little clip of some local festival coverage.

UPDATES: I'll try to post links to OIAF coverage I can find online.
Here are some opinions.  Clearly not totally  totally thrilled.
Talking about an OIAF Shorts screening, from the casual viewer perspective.
A rundown of the Canadian Showcase.
You can take a look at this year's signal film here.