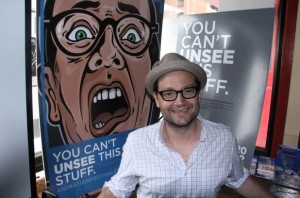 With this year's Ottawa International Animation Festival just around the corner, mainstream media starts to throw a few stories our way.  First up is local Ottawa fare: Metro Ottawa as a nifty little picture of Chris Robinson, OIAF Artisitic Director, resident curmudgeon, and Animation Pimp.  Chris looks frighteningly cheery.  The brief piece mainly covers the increased presence of Video Games and special effects at this year's event, as well as mentioning Ottawa animator David Borish, who has a film in the show again this year.  Also mentioned is the record number of entries this year: 2337.
This promises to be a very accessible event this year, I'm going, you should too.
I'll dig around and see what else I can find.