Treason Media and Style 5 Get Ready to Rumble!
Toronto, Canada – September 15, 2012 – Aron Dunn's indie prodco Treason Media has partnered with Sam Chou's production studio Style5.tv to create and produce the original primetime (14+) animated comedy series "Rumble Cat".
Aron Dunn, head of Treason Media says, "I've been a huge fan of Sam's work for years and the opportunity to create an original series with him is both a thrill and an honour.  He's got bucket loads of style, excellent story sense and a comprehensive understanding of character.   We feel that Rumble Cat's unique mix of heart, audacity and laughs will quickly connect with youth audiences.  The world of Rumble Cat reflects the audiences' through the fun house mirror of fame, fortune and fighting!"
Sam Chou, of Style 5 says,  "Aron has a great sense of story, brings a unique voice to the characters and his expertise in shepherding shows to broadcast is invaluable.  We've been looking for the right project to collaborate on and the timing for this idea seemed perfect as MMA (Mixed Martial Arts) has exploded into the mainstream, Rumble Cat is ready to take on all comers.  The show takes what people know about the MMA world, and knocks it for a loop.  Yeah, we're ready to RUMBLE!"
"Rumble Cat"
Dre Brookins and Nate Jones, two best friends who drive each other crazy, try to survive and thrive in the "dog eat dog" world of professional fighting. After being caught on camera beating a couple of thugs robbing an old granny, Dre is recruited to the ZooFC, the world's biggest MMA (Mixed Martial Animals) league, based in the sin-circus that is Claws Vegas. Week in week out the pressures of fame, the demands of the octagon, and temptations of flesh and fast cash push Dre and Nate's friendship to the limits.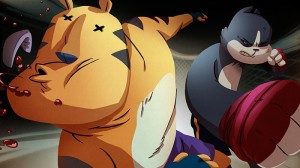 Treason Media   www.treasonmedia.ca
Treason Media is a full-service content creation company focused on comedy for kids and kids at heart.  Founded in 2011 by industry vet Aron Dunn to develop creator-driven projects, Treason's mission is to turn words into laughter, stories into memories, characters into icons and visions into reality.  Every revolution starts with an act of treason.
Style 5  www.style5.tv
Style5.tv is a boutique animation studio founded in 2007 by award winning director/animator Sam Chou.  A collective of talented artists, designers and animators, Style5.tv specializes in high-end, 2D animation for web, commercials and film.  Animation is a form of art, timeless and ever-evolving like film, dance and music.