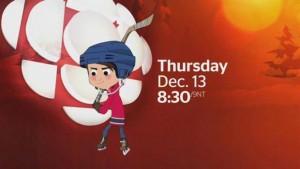 This is basically promotion, but I just wanted to draw everybody's eyes to tonight's animated special on CBC, the Magic Hockey Skates.  Produced by Ottawa's Amberwood Entertainment, with animation from Big Jump Productions, also out of Ottawa.  They've got some great voice talent lined up, including Claude Giroux, Don Cherry, and Bob Cole.  And there's some great artistic talent on board as well, including Kris Pearn, Sarah Mercey, Jay Boose, Michael Smukavic, Serge Côté, and Howard Sonnenburg.
A boy begrudgingly buys second hand skates which turn out to make him the best hockey player ever – via three wishes.
I'm a big fan of Christmas (yes, I said Christmas) specials.  I love the classics: Rudolph, the Grinch, Frosty, a Charlie Brown Christmas.  I love newer additions like Olive, the other Reindeer.  I REALLY love Cosmic Christmas, Nelvana's buried classic.
We don't really make those anymore.  But this got made.  It's a "holiday" special.  Basically a winter story, that's distinctly Canadian, and can be aired without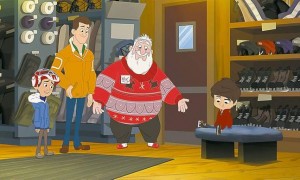 offending anyone.  And it's based on a book, so that helps get it made.  A low-risk prospect.  I like the people involved.  Good people, who make good animation.  And they stretched a bit, bringing in some ex-pat talent to give the show a visual bump.  I hope it does well.  I hope it does tremendously well, and then CBC orders more "holiday" specials!  And maybe eventually one of them can be about Christmas.
Congrats to everybody who got this made.