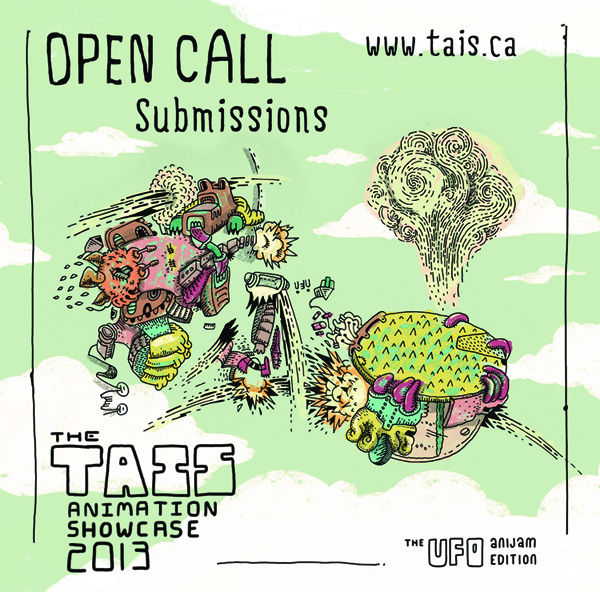 The Toronto Animated Image Society has opened up its call for submissions for the 2013 edition of their Animation Showcase.
Here are the guidelines:
TAIS Animation Showcase 2013
Submission Regulations
About TAIS Animation Showcase 2013
The TAIS Animation SHOWCASE is an annual animation screening created in 2005 by the Toronto Animated Image Society (TAIS) to showcase the best of independent animated works from Toronto, Canada and beyond.
Founded in 1990, TAIS is an artist-run Charitable organization. TAIS supports independent animators as artist and encourages research and creation by facilitating affordable access to space and equipment.
We are committed to support independent creation of animation, educating and increasing the public's understanding and appreciation of the art of animation by providing workshops, screenings, art exhibits, performances, and seminars on topics relating to the art of animation.
The Toronto Animated Image Society is supported by its members and patrons, the Canada Council for the Arts (Media Arts Section), the Ontario Arts Council and the Toronto Arts Council.
QUALIFICATION FOR ENTRIES
Any frame-by-frame or computer-assisted animated film or video completed in the last 2 years may be entered
Films must be no more than 10 minutes in length
Films must be submitted by Friday, April 12, 2013 at 6:00pm
The person(s) submitting the film must either be the creator of the film or have express permission from the creator of the film to submit it.
The creator(s) of the film must have the rights or express permission to use all materials used in the film
TECHNICAL REQUIREMENTS
Works submitted for selection must be in Quick Time file format, sized at 1920 x 1080 / codec Prores or H264 sound 48hz or size 1280 x 720 / codec Prores or H264 sound 48hz Films can be submitted by providing us the URL for download, or by sending us a QuickTime movie in the required format on a DVD or USB.
We require two high resolution (min 300 dpi, 2″ x 3″) jpeg or tiff still images from the film with each submission
Brief biography of the filmmaker
Completed submission form
REGISTRATION AND DEADLINE
No submission fee is required
All material must be submitted by FRIDAY, APRIL 12, 2013 at 6 PM or it will not be considered
Selected films will be notified via email by Wednesday, May 1st, 2013
All films are kept within TAIS Library for research purposes
SCREENING FEES & AWARDS
Screening fees will be paid for all films selected for exhibition at the TAIS Animation Showcase 2013
Awards will be granted by a small jury panel and via an audience choice award
ACCEPTANCE OF REGULATIONS
By submitting a film or films for the TAIS Animation Showcase 2013, the participant accepts without reservation the terms of the present regulations as stated in this document.
And here's the link.