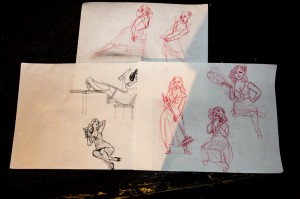 Toons On Tap is a local event in Toronto that's gaining some popularity with the animation crowd.  We posted about their last session, and they've been good enough to send us some follow up pics and a little write-up.  The next one is on February 26th, and it marks the 1 year anniversary of the event.  Worth checking out.
m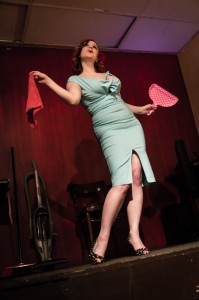 "At the last session of Toons On Tap costumed gesture drawing, Toronto signer and burlesque artist Bianca Boom Boom made her life drawing debut as a retro, pin up housewife.  Bianca posed with the solidity and inventiveness of a seasoned art model, and added a healthy dose of cheeky, burlesque humour.
The upcoming Toons On Tap session marks the first year anniversary of the life drawing group.  On Tuesday, February 26th, art model and choreographer Sion Irwin-Childs will pose alongside dancer and burlesque performer Charlie Quinn.  Sion has posed for Toons previously as Conan the Barbarian and as The Terminator, where he quickly became an audience favourite for his dynamic, fluid poses.  Charlie Quinn will be making her Toons debut- although she is no stranger to the stage.  With an impressive 18 years of dance training under her belt, Charlie has become a rising star in the Toronto burlesque scene.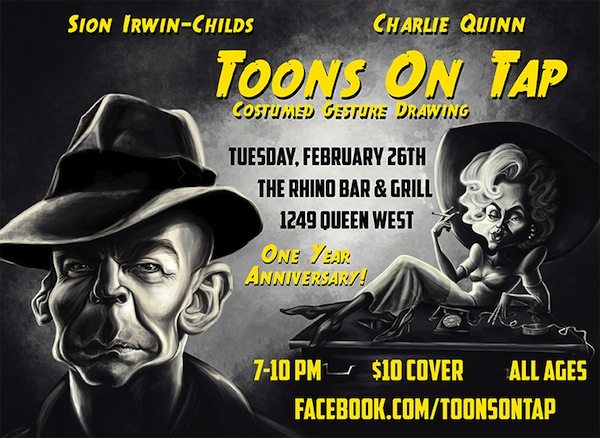 The theme of the session is film noir.  Always wished your life drawing class featured models interacting and an emphasis on story?  Look no further than Toons On Tap.  Sion will portray a jaded, weary noir detective, and Charlie will play the wealthy widow who hires him to solve a murder.
Never been to Toons? Here's what you need to know: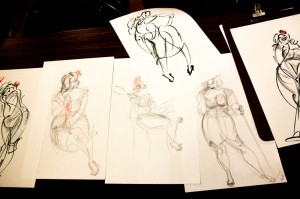 TUESDAY, February 26th, 2012
Drawing starts at 7pm. Ends at 10pm.
The Rhino Bar & Grill (Upstairs)
1249 Queen Street West, Toronto
Free parking in the back. Cheap parking on the street.
Accessible by the Queen streetcar or Dufferin bus.
Lost in the bar? Ask a friendly bartender for help!
3 hours of drawing. Dozens of poses.
Breaks for beer. Fully licensed bar downstairs, plus pub food.
Sketchbooks work best, but all mediums welcome.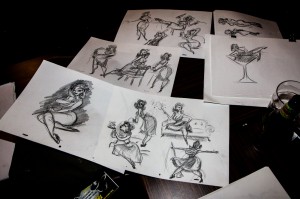 $10 Cover.
All ages – we've had artists as young as 13 come to draw!
Every session ends with an art contest. Share your best sketches and the models will pick their favourite drawing. Winner brings home a prize! Without question, always our favourite part of the night."