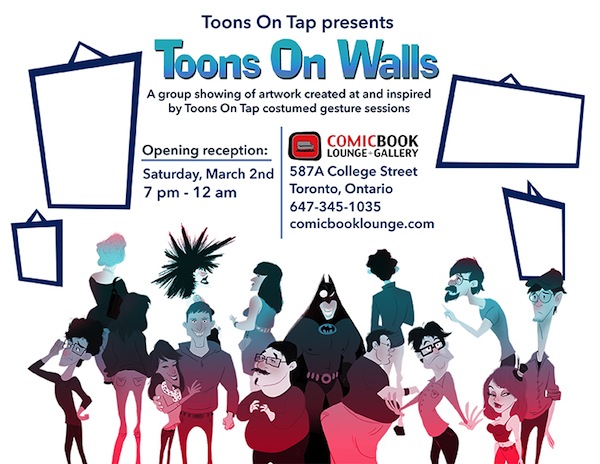 Toronto's Toons On Tap is going strong, and to celebrate a whole year of drawing and sketching, they're hosting a gallery show:
Toons On Tap presents TOONS ON WALLS a group showing of artwork created at and inspired by Toons On Tap costumed gesture drawing sessions.
After one year of running Toons On Tap, our favourite part of the night is still seeing the audience work at the end of the session. Don't hide it in your sketchbooks- put it on the wall!
From quick gestures to digital paintings to special effects makeup to photographs, the gallery will feature an array of work by professionals, students, and aspiring artists.
Join us at The Comic Book Lounge and Gallery for the opening reception on Saturday, March 2nd. The Lounge is located 587A College Street, Toronto, Ontario.
List of exhibiting artists, alphabetical by last name:
* Lucky Anastov
* Mark Boyer
* Jeremy Cardarelli
* Joey Cardarelli
* Hannah Clark
* Andrew Craig
* Jeffrey Adam Danyleyko
* Manaf Fakhro
* Omar Farouq
* Craig Ferguson
* Tabitha Fisher
* Eric Frech
* Kitty Fung
* Joe Giampapa
* Julian Giraldo
* Jared Frank Hetner
* Magnus Hjerpe
* Lauri Lewis
* Robert Lewis
* Aaron Long
* David McKenna
* Mike Michell
* Laura Nemeth
* Alexandra Newbould
* Daf Palfrey
* Stephanie Ramon
* Noreen Rana
* Pam Rose
* Serena Siu
* Ben Thomas
* Rachael Wells