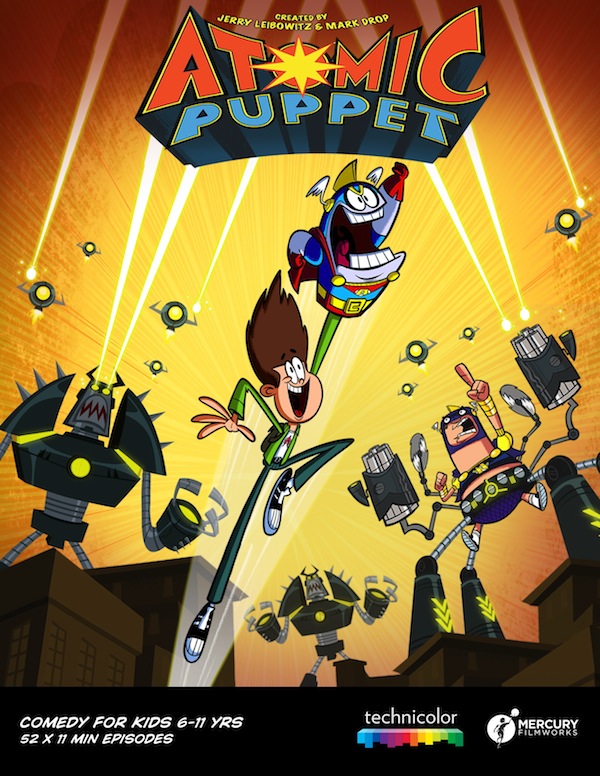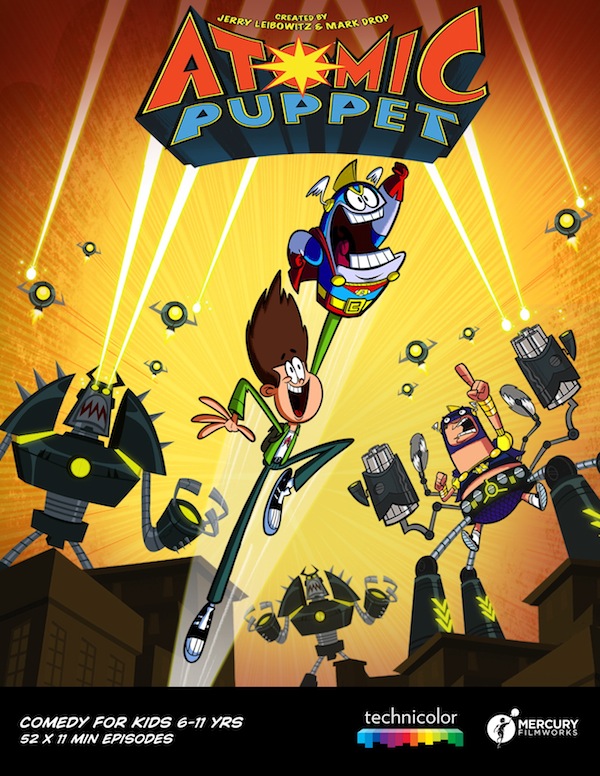 Ottawa, Canada & Paris, France – (January 29, 2013) – Canada's Mercury Filmworks and Paris-based Technicolor (Euronext Paris: TCH) today jointly announce a development deal with TELETOON Canada for animated comedy television series, Atomic Puppet.
Mercury Filmworks, Technicolor and TELETOON will co-develop Atomic Puppet as a 2D animated comedy series targeting kids 6–11. Atomic Puppet was created by animated television writer Mark Drop (Matt Hatter Chronicles, Jake and the Never Land Pirates) and writer/creator Jerry Leibowitz (The Mouse and the Monster).

In Atomic Puppet, when Model City's fearless superhero is transformed into a powerless puppet by his disgruntled sidekick, the hero's powers are accidentally transferred to his biggest fan, 12-year old Joey Felt. Together the two form an awkward and comedic partnership as they strive to become the city's greatest superhero team.
"We're thrilled to have TELETOON on board to help us put the finishing touches on Atomic Puppet's cross-platform development plan," said Clint Eland, President & Executive Producer of Mercury Filmworks. "Technicolor has been such a strong partner throughout development that adding our friends at TELETOON becomes an embarrassment of creative riches for the property."
"We believe that TELETOON is the ideal partner for Atomic Puppet, as the network's audience and its programming fit perfectly with the comedy and action of this hilarious animated series," added Steven Wendland, Vice President, Technicolor.
"Atomic Puppet is just the kind of quirky, high-octane comedy that resonates with fans of TELETOON," said Alan Gregg, Director, Original Content, TELETOON Canada. "We're delighted to join forces with the highly-talented teams at Mercury Filmworks and Technicolor."
Mercury Filmworks and Technicolor will be presenting Atomic Puppet at Kidscreen Summit in February 2013 to potential broadcast partners around the world.
About Mercury Filmworks
Mercury Filmworks is one of Canada's most prolific independent studios and internationally recognized as a leader in the animation industry for its benchmarks in quality, reliability, and innovation. Mercury has helped bring to life many of the most memorable modern animated television and film properties including Jake & the Never Land Pirates, Fish Hooks, Kick Buttowski: Suburban Daredevil, Stella & Sam, Jimmy Two Shoes, Toot & Puddle, Ruby Gloom, Grossology, Gerald McBoing Boing, Curious George: The Movie, The PowerPuff Girls Movie, Fat Albert, and Looney Tunes: Back In Action. Mercury is proud to be associated with partners such as Disney, Warner Bros., Universal, American Greetings, Entertainment One, Technicolor, Cartoon Network, Nickelodeon, CBC, Teletoon, YTV, Family Channel, and Treehouse.  Ÿ
About Technicolor
Technicolor, a worldwide technology leader in the media and entertainment sector, is at the forefront of digital innovation. Our world class research and innovation laboratories enable us to lead the market in delivering advanced video services to content creators and distributors. We also benefit from an extensive intellectual property portfolio focused on imaging and sound technologies, based on a thriving licensing business. Our commitment: supporting the delivery of exciting new experiences for consumers in theaters, homes and on-the-go.