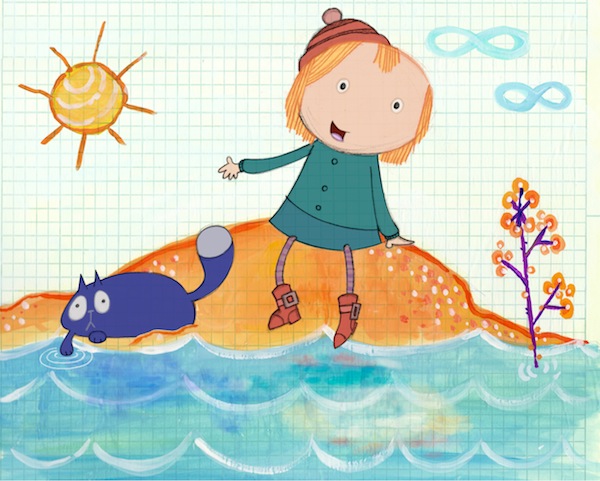 9 Story Entertainment to produce and distribute new animated preschool series Peg + Cat launching at MipTV
Toronto, Canada – February 26, 2013 – 9 Story Entertainment announced today it will be producing and distributing the new animated preschool series Peg + Cat (80×11′), and will be launching sales of the series at Miptv.
Peg + Cat was created by Emmy Award winning creative director, animator and children's writer Jennifer Oxley (Little Bill, The Wonder Pets!) and Billy Aronson (Rent, Postcards from Buster) and developed with partner the Fred Rogers Company for PBS Kids.
"We are delighted to once again be working with the Fred Rogers Company on this remarkable series.  Its unique visual style wrapped around a fascinating world of adventure and music will bring enjoyment to young viewers the world over," said Vince Commisso, President and CEO, 9 Story Entertainment.
"We loved Peg + Cat from the moment we first saw it," said Kevin Morrison, C.O.O. of The Fred Rogers Company. "Its quirky humor, beautiful design and engaging music make it irresistible.  We're delighted to be bringing this new series to today's young audience."
Peg + Cat will engage young viewers with the adventures of Peg and her sidekick cat as they encounter unexpected problems that require creative solutions. In order to solve the problems, Peg and her cat must add, subtract and apply basic arithmetic. Their adventures take them to historical far-away lands, art centers in bustling metropolises and the colourful cosmos, all the while demonstrating that it's never too early to start learning the magic of numbers.
Fred Rogers founded The Fred Rogers Company in 1971 as the nonprofit producer of Mister Rogers' Neighborhood for PBS. In the years that followed, it not only created hundreds of episodes of this much-loved program, but also extended Fred's values and approach to other efforts in promoting children's social, emotional and behavioral health and supporting parents, caregivers, teachers and other professionals in their work with children. The Fred Rogers Company continues to build on Fred's legacy in innovative ways through a wide variety of media, and engaging new generations of children and families with his timeless wisdom. In September 2012, the company launched the hit series Daniel Tiger's Neighborhood on PBS Kids.  For more information, visit www.fredrogers.org.
9 Story Entertainment is one of the industry's leading creators, producers and distributors of award-winning animated and live-action content for young audiences around the world.  With one of North America's largest animation studios based in Toronto, 9 Story has over 200 creative and production staff, and has produced over 800 half hours of quality children's and family programming, seen on some of the most respected children's channels around the world across multiple platforms.  The company's distribution arm 9 Story Enterprises represents a growing catalogue which includes several beloved brands such as Arthur, Wibbly Pig, Harriet the Spy: Blog Wars, Wild Kratts and Almost Naked Animals in addition to popular new series such as Camp Lakebottom, Cache Craze, Daniel Tiger's Neighbourhood and Nerds and Monsters. www.9story.com