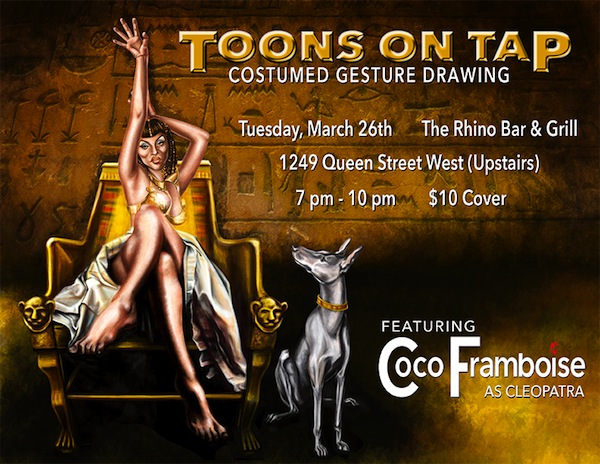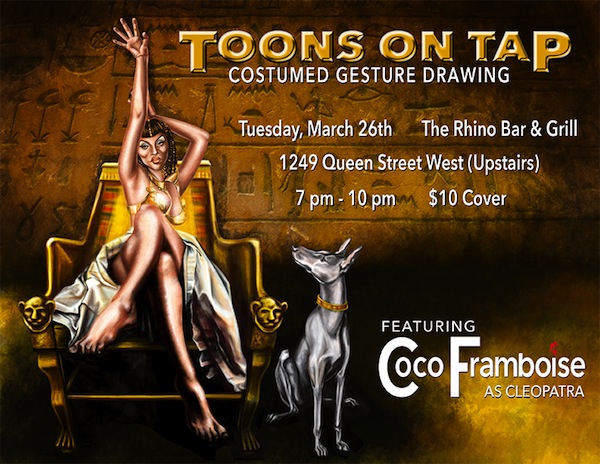 Intercontinental burlesque star Coco Framboise comes to Toons On Tap dressed in her elegant Queen of the Nile costume.  Although new to our stage, Coco is no stranger to posing for costumed life drawing.  As a frequently booked model at Dr. Sketchys Toronto, she won over the crowd with her charming personality and stunning good looks.  She is a highly sought after performer and a true headliner; our previous burlesque models, Red Herring, Charlie Quinn, and Bianca Boom Boom, were all mentored by her.
You've seen the students, now come draw the master.
Never been to Toons? Here's what you need to know:
Tuesday, March 26th, 2012
Drawing starts at 7pm. Ends at 10pm.
The Rhino Bar & Grill (Upstairs)
1249 Queen Street West, Toronto
We suggest arriving early to secure a seat.
Free parking in the back. Cheap parking on the street. Accessible by the Queen streetcar or Dufferin bus. Lost in the bar? Ask a friendly bartender for help!
3 hours of drawing. Dozens of poses. Breaks for beer. Fully licensed bar downstairs, plus pub food.
Sketchbooks work best, but all mediums welcome.
$10 Cover.
Every session ends with an art contest. Share your best sketches and the model will pick their favourite drawing. Winner brings home a prize! Without question, always our favourite part of the night.