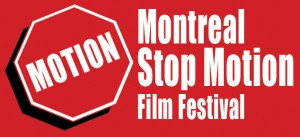 Montreal – April 24, 2013 – The Montreal Stop Motion Film Festival is proud to announce the official opening of its call for entries for the next edition of the Festival, which will take place on October 18, 19 and 20, 2013. The deadline for film entries is September 20, 2013.
Started in 2009 and now preparing its fifth edition, the Montreal Stop Motion Film Festival is the world's first festival dedicated exclusively to films made using stop motion animation. The festival has been host to many special guests, including OSCAR® winner Co Hoedeman, world renowned filmmakers Barry JC Purves, Peter Saunders of Mackinnon & Saunders (Corpse Bride), Mark Shapiro (Laika's ParaNorman) and Merlin Crossingham (Aardman Animations).



Each year, the Festival offers family-friendly stop motion workshops, guest lectures from international experts in the field, and the best stop motion films from around the world.
So, mark you calendar for the coolest film festival in town!
CALL FOR ENTRIES
Deadline: September 20, 2013
For information concerning eligibility, dates, accepted formats and rules, please visit the submission section of the official website.
For more information: www.StopMotionMontreal.com
The Montreal Stop Motion film Festival celebrates the talent of all stop motion artists. The festival is an initiative of Erik H. Goulet, director of the festival and teacher in the animation department at Concordia University since 2001.