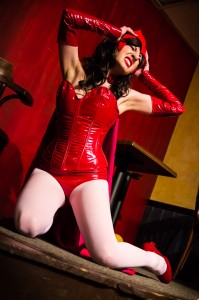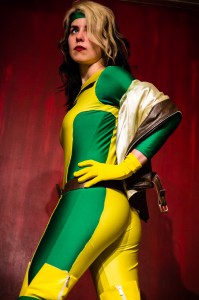 Last Tuesday, Toons On Tap brought two talented young models to the stage – Krista Rogue Benjamin (a.k.a Toronto Rogue), and Tamar Lispey (a.k.a. Light Priestess Cosplay).  They battled it out in the high energy ode to X-Men comics.
At tonight's Toons On Tap, body paint model and bodybuilder Jeff Sim will be transformed into everyone's favourite alien Symbiote – Venom!  Special effects make up artist Mark Boyer of 3B Artistry will work his magic and turn Jeff into Venom, teeth and all!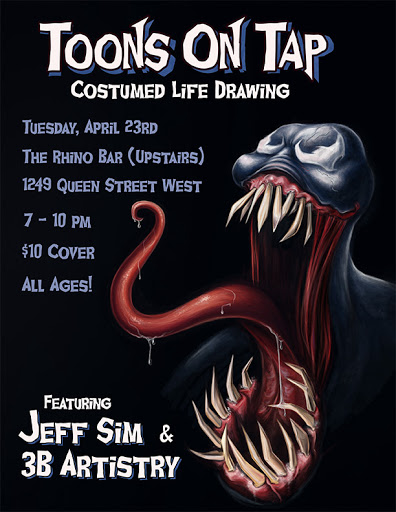 Never been to Toons?  Here's what you need to know:
Tuesday, April 23rd, 2013
Drawing starts at 7pm. Ends at 10pm.
The Rhino Bar & Grill (Upstairs)
1249 Queen Street West, Toronto
We suggest arriving early to secure a seat and get a behind the scenes peek at Mark Boyer's make up transformation.
Free parking in the back. Cheap parking on the street.
Accessible by the Queen streetcar or Dufferin bus.
Lost in the bar? Ask a friendly bartender for help!
3 hours of drawing. Dozens of poses.
Breaks for beer. Fully licensed bar downstairs, plus pub food.
Sketchbooks work best, but all mediums welcome.
$10 Cover.