I've been meaning to post this, it looks supercool, and I really want to try it out.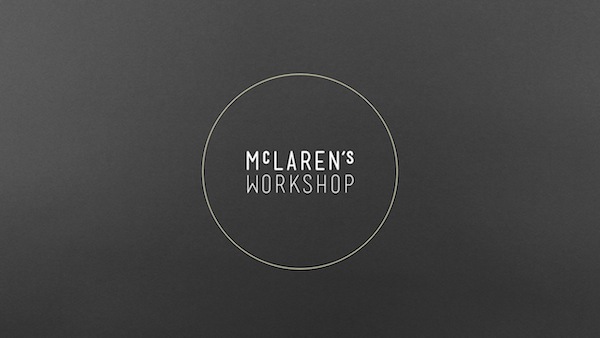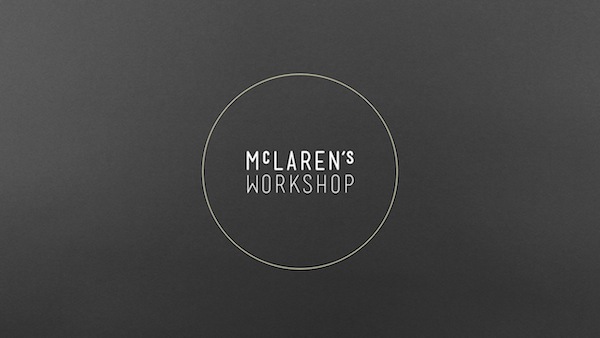 Montreal, June 6, 2013 – iPad users can now discover the genius of animation pioneer Norman McLaren and find out how their artistic skills compare to his, using his creative tools and techniques to make and share new works of their own. All of this and more can be found in McLaren's Workshop, the new free iPad app developed by the National Film Board of Canada (NFB) and now available in Apple's App Store. Selected as the Editors' Choice at Apple's App Store, McLaren's Workshop lets users discover the techniques pioneered by the founder of animation at the NFB, enabling them to bring images to life, just as he did. A number of renowned animators have already tried their hands at the workshops: Koji Yamamura, Don Hertzfeldt, David OReilly and Patrick Doyon have explored the Scratch on Film workshop, Regina Pessoa took the Paper Cut-Out workshop and Renaud Hallée experimented with the Synthetic Sound workshop. Their films can be viewed on the NFB's Vimeo channel at http://vimeo.com/thenfb.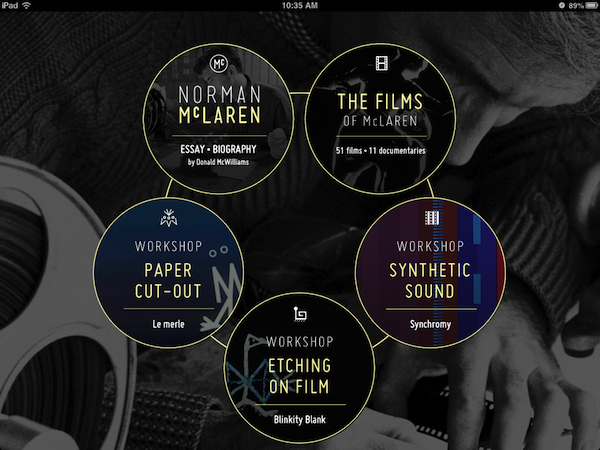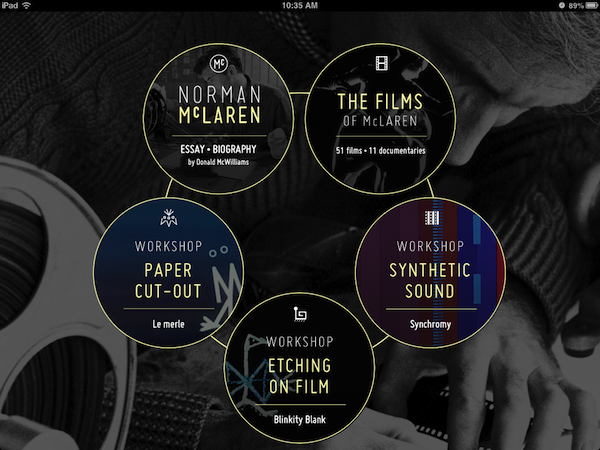 In addition to the Paper Cut-Out workshop, the free app features 51 films by McLaren, 11 short documentaries, an illustrated biography and an exclusive essay by Don McWilliams.
McLaren's Workshop
also contains in-app purchases for the Scratch on Film and Synthetic Sound workshops.
"The NFB continues to break new ground," says Tom Perlmutter, Government Film Commissioner and Chairperson of the National Film Board of Canada. "Staying true to McLaren's creative spirit, this original app presents an exciting new challenge to artists who want to see how they measure up against the great master. It also gives a wider audience the chance to tell their stories as they explore the techniques McLaren invented. And for the first time, we're launching a free app with the option to purchase other features—a way of ensuring maximum access to our innovations while testing new business models."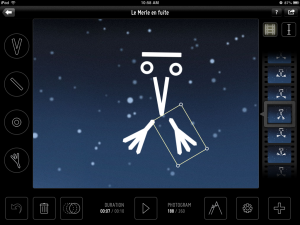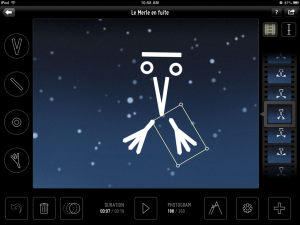 As a follow-up to the mammoth task in 2006 of compiling the seven-DVD box set
Norman McLaren – The Master's Edition,
the NFB designers of
McLaren's Workshop
worked closely with animation experts and artists who had once worked alongside McLaren himself. Sustained effort went into designing an app that would reproduce the filmmaker's creative spirit as faithfully as possible. The result highlights McLaren's legacy while affording a more in-depth understanding of his work and films.
Exclusively Share to Vimeo
During the first two months of the app's release, users of McLaren's Workshop can share films made using one of its three workshops by uploading them directly from the app to Vimeo.
With some of the world's most talented animators calling Vimeo home, the NFB turned to Vimeo to integrate the functionality to share via their platform directly into the app.
Not only will users of the McLaren's Workshop app be able to share their creations with other leading animators around the world, but they'll be able to showcase them in the best possible manner.
"We are proud to be able to support new creativity in animation and exclusively showcase and share these works directly from the innovative McLaren app to the Vimeo community," said Nick Alt, Vice President of Mobile for Vimeo.
2.
McLaren's Workshop
was designed and produced by the NFB (designers Mivil Deschênes and Jean- Sébastien Beaulieu, and Platform Development/Digital Distribution director Joël Pomerleau) in partnership with
Ottoblix
(David Roger and Farah Allegue). Programming was carried out by
Para9/Matricis
(Tran-Quân
Luong and Alexandre Grégoire).
Born in Stirling, Scotland, in 1914, Norman McLaren, founder of the NFB's animation studio, invested Canadian animation with a vision and direction that endure to this day.
His groundbreaking animation work at the NFB between 1941 and 1983 received international recognition for its invaluable contribution to cinema: a Palme d'Or in the short film category at Cannes for
Blinkity Blank,
an Oscar® for
Neighbours,
a Berlin Silver Bear for
Rythmetic,
a Berlin Silver Plaque for
Begone Dull Care,
BAFTAs for
Blinkity Blank,
A Chairy Tale
and
Pas de deux,
not to mention numerous Canadian awards as well as the honours bestowed in recognition of his overall achievements. In 2009, McLaren's priceless audiovisual legacy joined UNESCO's Memory of the World Register, which also holds the original manuscripts of Beethoven's Ninth Symphony and the Gutenberg Bible.
Tribute to McLaren at
The Image Mill
For its final season of projection,
The Image Mill,
in association with the NFB, will pay tribute to the work of Norman McLaren throughout summer 2013. In June 2014, the Musée de la civilisation de Québec will present an original exhibition on NFB animation as part of the activities marking the NFB's 75th anniversary.
About the NFB
The National Film Board of Canada (NFB) is one of the world's leading digital content hubs, creating groundbreaking
interactive
documentaries and animation, mobile content, installations and participatory experiences. The NFB has created over 13,000 productions and won over 5,000 awards, including 4 Canadian Screen Awards, 7 Webbys and 12 Oscars. To access acclaimed NFB content, visit
NFB.ca
or download its
apps
for smartphones, tablets and connected TV.