TAAFI announced their official selection today. Here ya go!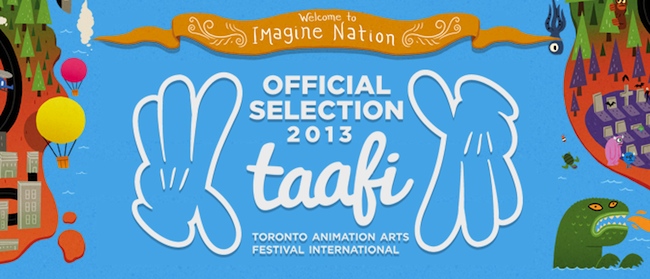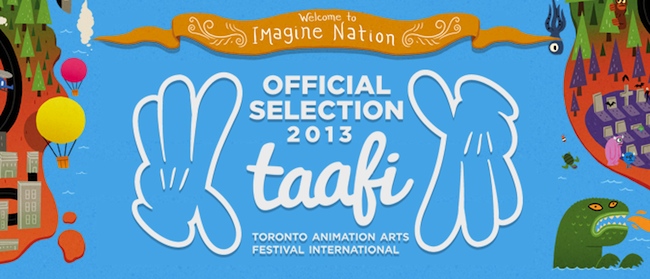 Thank you to Aaron Hong for the snazzy TAAFI pize laurels proudly displayed above; a nod to the golden age of animation.
Passes and tickets are on sale  June 17! Below is just a peek at the voyage your mind will take into the Imagine Nation: TAAFI 2013, July 26-28 at Corus Quay and TIFF Bell Lightbox! Screening times will be announced June 17 at taafi.com.
And now, your ticket to Imagine Nation…
SHORTS ONE – Straight Up Toons
You like toons? We've got toons. This is frame-by-frame storytelling at its finest and most entertaining. With their stellar animation and classic toon appeal, these films will make you feel animated (…after an hour of sitting perfectly still).
Image: Urbance (Trailer) Joël Dos Reis Viegas
The Butterfly Effect Dan Shumich
The Beards – Got Me A Beard Chris Edser
Samurai Jew: The Eighth Night Nadav Nachmany
Urbance (Trailer) Joël Dos Reis Viegas
Pasteurized Nicolas Villarreal
The Right Place Jamie Gallant
Marvel Blackmeal
Monkey and the Rabbit Rodney GK
The Myth of Robo Wonder Kid Joel Mackenzie
Light Tao Hu
Fester Makes Friends Aaron Long
Amen! Moritz Mayerhofer
Jubilation Day Elaina Porter
Lemons Kate Burck
Under the Fold Bo Juhl Nielsen
Super Exposure Greg Doble
SHORTS TWO – Reflecting Pool
Do you find yourself asking: Why are we here? Who am I? What exactly is a NURB? All of these questions are entertained and, quite possibly, answered in this block of films, which animate the human condition in all its uncertainty.
Image: The Leisure Society – Fight For Everyone Persistent Peril
Castaways Mario Rico
The Leisure Society – Fight For Everyone Persistent Peril
Feral Daniel A Sousa
Bydlo Patrick Bouchard
The Big Boy Lee Kyu Tae
Little Kaiju Jonathan Baker, Josh Baker
The Wanderer of Saint-Marcel Rony Hotin
Priests Astutillo Smeriglia
SHORTS THREE – Stylin'
Innovative ideas and original techniques delivered faster than your brain can process. Smooth graphic styles and unique story twists permeate this fanciful film block. Our only regret is that we can't deliver it to you in an opalescent DeLorean.
Image: Ninja Turtles Tribute Malcolm Sutherland

Jazz That Nobody Asked For Rune Fisker, Esben Fisker
Eclipse Théo Guignard, Nöé Lecobre, Hugo Moreno
Domino Party Sonni Adrian, Graziano Fernan
Sticky Néstor Fernández
Half A Pantaloon Hector Herrera, Pazit Cahlon
Béatrice Coron's Daily Battles James Stewart
Mobile Caleb Wood
All Time Low – For Baltimore Brett Jubinville
Bravest Warriors: Time Slime Breehn Burns
Monkey City Marcus Alqueres
I Hate You Red Light Juan Manuel Urbina, Mathias Horhager
Jammed Yibi Hu
Arcane Bastien Belvaux
Mountain David Prosser
Everything I Can See From Here Sam Taylor, Bjorn-Erik Aschim
SHORTS FOUR – 
Hilariously Strange & Incredibly Dark
Chaotic, artistic enjoyment from a subconscious dimension. Expect a bit of strange, a dab of blood, a generous dollop of humour, and the amazing, visionary 'wow' that this recipe creates.
Image: Perihelion Nick Cross
Adam Buxton – Livin' in the Sunlight, Lovin' in the Moonlight Layzell Bros
Fingers Tale Sinem Vardarli , Luca Schenato
Lionfish Delusion José Enrique Rivera Rivera
Swarming Joni Männistö
Birthdeus X Mack Carruthers
Fatal Vittles Devin Bell
Bird Shit Caleb Wood
Dry Grass in a Blue Vase Maria Ivanova
Perihelion Nick Cross
The Animation Tag Attack Christen Bach, Wolfgang Reimers, Mads Juul, Andreas Normand Grontved, Ned Wenlock, Oren mashkovski, Maxwell Oginni, Ewen Stenhouse, Mikey Please, Francesco Giroldini, Brendan Carroll
Moones – Better Energy Peter Sluszka 
A**hole Robot Geri Bertolo, Chris Walsh 
The Deep End Jake Fried
I, Pet Goat II Louis Lefebvre
Boogodobiegodongo Peter Millard
STUDENT SHORTS
Sophisticated storytelling and top notch animation define this block, brought to you by the finest scribbling institutions from around the globe. Canadian and International schools represent, in this selection of student masterworks.
Image: Sun of a Beach Natan Moura
Love Tom Law
Distance Todd De Jong, Tom Law, Wandrille Maunoury, Etienne Metois, Jonathan Vermersch
Sun of a Beach Natan Moura
Happily Ever After Ben Genislaw, Yonni Aroussi
Moment Raoul Olou
Bubble Tea Time Rebecca Liu
Chocolate Bacon Asavari Kumar
Can We Be Happy Now Tahnee Gehm
Olive Harriet-Lane Ngo
Dechen Kaukab Basheer
Double Occupancy Fabian Giessler
Last Stop Denise Tse 
Swelter Jacob Streilein
Retirement Plan Matan Yaniv
Titan Al Torrijas
Lumin Bekah Nunn
Red Button Day Sagan Yee
I am Tom Moody Ainslie Henderson
One Day Joël Corcia, Bung Nguyen, Thomas Reteuna, Laurent Rossi, Bernard Som
KIDS SHORTS
A program of funtastic and inspiring animated films, suitable for kids of all ages. WARNING: these films encourage smiles, learning, creativity, and enthusiasm. So be prepared for the car ride home.
Little Toys Bruno Collet
Sesame Workshop Chris Morris
The Beet Party: Beet Gymnastics Paul Brown, Paul Hunt
Sniffles Jeremy Galante, David Cowles, Jeremy Galante, David Cowles
Welcome to Bric and Brac Jean-Claude Rozec
Beethoven's Wig Denny Silverthorne, Alex Hawley
Nuts & Robbers Peter Lepeniotis
Yup Yups Matt Fernandes
SeeD Hui-ching Tseng
High Five Sophia Lee
The Sunshine Egg Michael Haas
Icecapade Simon Tofield
Ramen Party Lillian Chan
Peregrina Taha Yasin
The Window Camille Müller
Facts Evgeny Golovin
The Fox and the Chickadee Evan DeRushie
Forty Hymns of Faith Charuvi Agrawal
Thank you to all who submitted, the selection was tough due to the bountiful options in 2013.
Stay tuned for an exciting line up of Features Retrospectives Panels and Workshops!