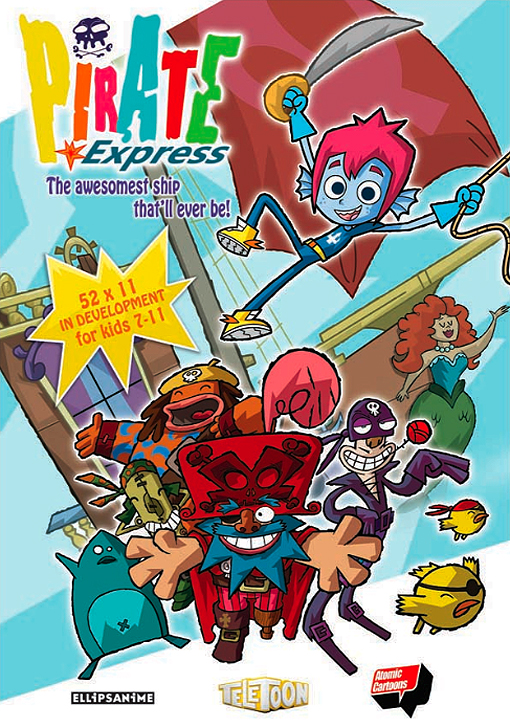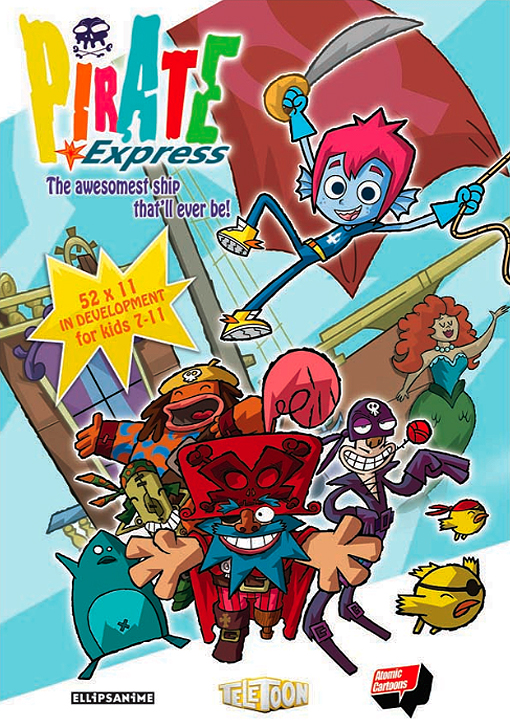 ATOMIC AND STICKY PICTURES SAIL INTO PRODUCTION ON ORIGINAL SHOW PIRATE EXPRESS
(Vancouver, BC) – Atomic Cartoons and Australia's Sticky Pictures are raising anchor and starting production on 26 half hour episodes (52 x 11) of Atomic Cartoons' original animated television comedy series Pirate Express. The fun-filled pirate show for kids aged 7 to 11 is set for broadcast on Canada's TELETOON in the fall of 2014 and Nine Network Australia in 2015.
The series follows the adventures of Newt, a 12 year old boy from Atlantis and the most dim witted crew on the seven seas, onboard the ship Pirate Express. Newt's father, Poseidon, has made Newt the captain of the Pirate Express. His mission? To keep the former Captain LaPoutine, and his crazy crew, from mischief and trouble.
"We're getting ready to take on production of this fabulous and funny original show," says Rob Davies, partner at Atomic Cartoons. "We're excited to have Pirate Express under sail with such great partners as TELETOON Canada, Sticky Pictures and Nine."
"We love pirates at TELETOON and we know our viewers do too. Pirate Express is a swash-buckling new addition to our line up," said Alan Gregg, Director, Original Content TELETOON Canada Inc., "We look forward to hoisting the mainsail and swabbing the poop deck with our great partners at Atomic Cartoons and Sticky Pictures."
"We're delighted to be heading into production on Pirate Express," says Donna Andrews, CEO of Sticky Pictures. "This is an original pirate comedy that's funny, irreverent and incorporates the pirate mythology we all love so much."
"We're looking forward to getting Pirate Express on the air," says Jo Rooney, Nine Network. "It will be a great comedic addition to our wonderful kids' slate."
Atomic Cartoons is a full service award winning independent animation company based in Vancouver. Atomic creates and produces both original properties such as Pirate Express and Atomic Betty, as well as co-productions like Rocket Monkeys, currently scoring rave reviews with viewers on TELETOON and Nickelodeon.
Sticky Pictures is a creative driven Australian production company known for such notable productions as Dennis & Gnasher based on the iconic British comic strip, the multi-award winning Dukes of Broxstonia, the international hit series Pearlie, and the live action comedy series Me & My Monsters.