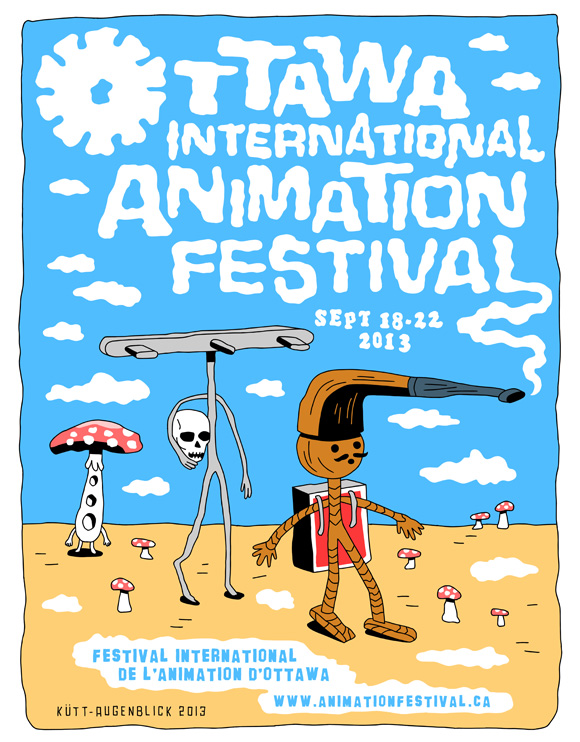 OTTAWA (July 16, 2013) – The OTTAWA INTERNATIONAL ANIMATION FESTIVAL (OIAF) is pleased to announce that Canadian animation will once again have a strong showing at this year's festival running September 18th-22nd.
This year's film selection includes animation from over 20 countries including Japan, France, Germany, and the UK. A total of 45 Canadian works were selected for screening, with 12 in competition and 33 to be shown in Showcase screenings.
"The Canadian films this year were extremely diverse," says OIAF Artistic Director Chris Robinson, "and greatly demonstrate our country's wide-ranging talents. The National Film Board of Canada (NFB) is, as usual, an incredible producer and distributor of Canadian animation gems, though our animation borders also extend far beyond its reach with strong contenders from independent filmmakers, students, and production studios."
Some outstanding Canadian films that will be competing for Best Short Animation alongside the best international works include:
• Gloria Victoria by award-winning filmmaker THEODORE USHEV (Lipsett
Diaries, Drux Flux)
• Subconscious Password by past OIAF Grand Prize and Oscar-winner CHRIS LANDRETH (Ryan)
• Kellogg's Cinnamon Pops commercial by STEVE ANGEL from award-winning studio Head Gear Animation (Get a Load of Milk and Oreo Cakesters commercials)
In addition to the films in competition, Canadian talent will be celebrated at the Canadian Showcase screenings. All Canadian films in competition and in the showcase qualify for the CFI Award for Best Canadian Animation.
For a second time, one up-and-coming animator will be awarded with Best Canadian Student Animation at the Canadian Student Showcase. These talented students represent reputable Canadian film institutions from around the country such as Concordia University and Emily Carr University.
To view the entire list of selections, visit the OIAF's selections webpage. For information on additional screenings, visit OIAF's screenings webpage.
The OIAF is one of the world's most competitive film festivals. This year, the Festival received 1,924 entries, selecting 108 finalists for competition.  An additional 44 films will be shown out-of-competition in Showcase screenings.
OIAF competition includes categories for best feature, narrative,experimental and student films, TV shows, commercials, video games, and music videos.  There is also a separate competition for films and TV shows made for children. Prizes will be awarded to category winners and a grand prize will be awarded to the winner of each competition: best Short Film, Feature Film, Student, and Commissioned Film.
ABOUT THE OIAF
The Ottawa International AnimationFestival (OIAF) is one of the world's leading animation events providing screenings, exhibits, workshops and entertainment since 1976.  OIAF is an annual five-day event bringing art and industry together in a vibrant hub and has a total attendance of 25,000 artists, producers, students and animation fans from around the world.
This year's Festival runs from September 18th-22nd.