I apologize for that headline.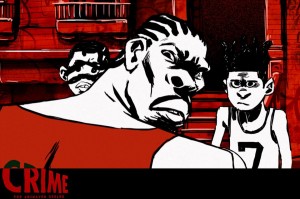 But hopefully it's the snappy invitation you all needed to check out what Sam Chou and his crew at Style5 have been up to when they're not animating Captain Canuck.
It's CRIME.
I've been lucky enough to see a preview of these amazing shorts, and they're gonna knock your socks off. They're all first person accounts of true crime stories. Each one, under Sam's supervision, has been animated in a different style, buy a different artist. You need to see them.
Here's the teaser:
The series is based on the book by Alix Lambert, and produced through moca.tv (Museum of Contemporary Art), and will kick-off with a panel discussion in L.A. on July 10th at MoCA Grand (250 South Grand Ave) at 8pm Chou and Lambert will participate, screen episodes and display art from the series. So if any of you are in the Los Angeles area this week, go give Sam a pat on the back.