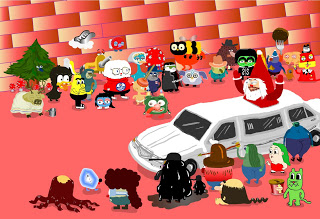 Asphalt Watches got into TIFF. That's awesome.
If you're not aware of the project, it's an animated feature film of the most independent variety. Seth Scriver and Shaybe Ehman ran a successful Indiegogo campaign and managed to raise a little over ten grand, they've reportedly been working on this thing for eight years, and from what I've just been told, they got the rough cut into TIFF and have two days to get the final cut together.
Here's how they describe the film itself:
Asphalt Watches is a collaborative feature-length epic Flash animation by Seth Scriver and Shayne Ehman. Mutants of the glowing racetrack …on a raft surrounded by death… cross the threshold of safety and into the void of the unknown…   This is a true story cross-Canada hitchhiking road trip that we did together.
Asphalt Watches is a true adventure story: in 2000, we hitchhiked across Canada together. The animation captures our crazy journey, full of hilarious and amazing encounters. Using music and songs we make ourselves, alongside hand-drawn Flash animation, we tell the tale of making our way from a 7-11 near Chilliwack BC where a guy was hanging out with a knife in his belly… to meeting one of only "two real Santas" in the world outside Calgary… to barely escaping death near Regina SK. Our style is to turn real-life characters and settings into funny and poetic abstractions that depict the feeling and essence of what happened.
Our pal, Sam Chou(who also got a film into TIFF this year, more on that later), met them yesterday and just showed up all super-excited about the film. He said the guys are hilarious, and super-nice. They described their process a bit on the IndieGogo page:
We draw the scenes by hand using Wacom tablets and then we animate it in Flash. We create musical soundscapes that incorporate sound effects and dialogue. Songs we write illustrate elements of the story. We will also hire some friends, family and people with weird voices to provide the voices of the characters.
The first half of Asphalt Watches was produced over a total of 5 months between 2006-2009. This is because up until 2010, we lived on opposite sides of Canada: Shayne lived in Vancouver and Seth lived in Toronto. The work on the animation was completed in short bursts, mostly at residencies we did together. Shayne moved to Toronto last year and we now have the rare opportunity to work together for an uninterrupted period of 6 months before he moves away again to Thunder Bay! Our work is intensely collaborative, so it is important that we are physically in the same place.