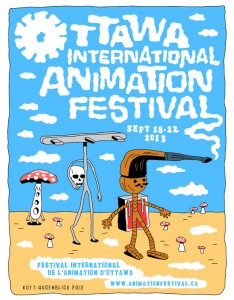 MEATBALLS, SPIRITS, AND MISFITS: OIAF Welcomes Award-Winning Animators For Special Screenings of Their Work
OTTAWA (AUGUST 27, 2013) – ADAM ELLIOT, CHRIS SULLIVAN, and directors CODY CAMERON and KRIS PEARN from Cloudy with a Chance of Meatballs 2 will be in town for the OTTAWA INTERNATIONAL ANIMATION FESTIVAL (OIAF)  to discuss and attend special screenings of their work. This year's festival is happening September 18th-22nd.
Often devoted to a certain theme or person, OIAF's special screenings are designed to compliment the main competition despite their stand-alone appeal. Coming from internationally acclaimed animators and studios, the special screenings consist of:
  A sneak preview of Sony Pictures Animation's Cloudy with a Chance of Meatballs 2, followed by a Q&A session with directors CODY CAMERON and KRIS PEARN.
  "Mary, Max, and the Misfits", a series of screenings of Oscar-winning ADAM ELLIOT's work including his short films and the highly acclaimed Mary and Max (2009). Elliot will be attending and is available for interviews.
  An exclusive screening of Walt Disney Animation Studios' Get a Horse! featuring old footage of Mickey Mouse voiced by Walt Disney himself.  Director LAUREN MACMULLEN will be hosting a Masterclass during the festival.
  Screenings of CHRIS SULLIVAN's work including the critically praised Consuming Spirits and a selection of his shorts. Sullivan will be in attendance.
  A retrospective screening of the late GERRIT VAN DIJK's most notable works.  Cilia Van Dijk, his wife, will be in attendance.
   "Spanish Snipers", presented by the Embassy of Spain, is a program curated to celebrate the richness of independent Spanish animation.
  "Welcome to Kanata", a screening demonstrating the talent of indigenous filmmakers.
  "The Kids are Alright", a retrospective screening showing the promising work of students from festivals passed. Work from ALISON SNOWDEN, SUZIE TEMPLETON, and MICHAEL LANGAN will be showcased.
The Ottawa International Animation Festival is one of the world's most competitive festivals. This year the festival received a total of 1926 entries from 76 different countries. Of those, 98 short films and 9 feature films were chosen for competition. In addition, 50 showcase films were chosen to represent the efforts of the Canadian, International, and Student communities.
For additional information about screenings, selections, and the Ottawa International Animation Festival, visit www.animationfestival.ca
ABOUT THE OIAF
The Ottawa International AnimationFestival (OIAF) is one of the world's leading animation events providing screenings, exhibits, workshops and entertainment since 1976. This year, the Festival received 1,924 entries, selecting 108 finalists for competition. An additional 44 films will be shown out-of-competition in Showcase screenings. OIAF is an annual five-day event bringing art and industry together in a vibrant hub and has a total attendance of 25,000 artists, producers, students and animation fans from around the world.
This year's Festival runs from September 18th-22nd.