9 Story acquires international distribution rights to the hit animated series Haunted Tales for Wicked Kids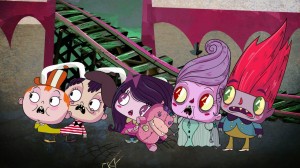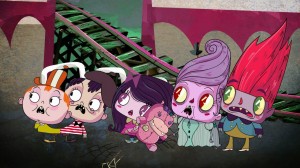 Toronto, Canada – September 11, 2013 – 9 Story Enterprises, the international distribution arm of 9 Story Entertainment, has acquired worldwide distribution and licensing rights (excluding Brazil) to the animated comedy series Haunted Tales for Wicked Kids (Haunted Tales, working title) (40 x 11'). The series is produced by Glaz Entertainment (Brazil) and currently airs on Cartoon Network Brazil. Cartoon Network Latin America is also set to premiere the series this Halloween. 
Haunted Tales for Wicked Kids quickly became a hit series in Brazil where it was the most viewed Pay TV program for kids ages 4-11 for the months of April, May and June earlier this year. It was also the first animated show to reach this coveted top spot after just one month of airing, and the first Brazilian animated series ever to reach the top of the chart.
Targeting an 8-12 audience, Haunted Tales for Wicked Kids follows Pepe, a 12-year old boy who helps out at his grandmother's potion emporium. Along with his friends, Pepe constantly finds himself involved in offbeat adventures and hilarious, extraordinary situations – usually caused by his own silly misuse of his grandmother's magical artifacts!
"Haunted Tales for Wicked Kids embraces an offbeat and edgy style of humour that has found a real following with today's kids," said Natalie Osborne, Managing Director, 9 Story Entertainment.  "This unique series is a fantastic addition to our portfolio and we are excited to bring it to an international audience."
"Haunted Tales for Wicked Kids has been a huge success in Brazil, and we are thrilled that 9 Story will be expanding its distribution," said Paulo Boccato, owner of Glaz Entertainment. "9 Story has a tremendous reputation within the industry and we're so pleased to be partnering with them on this show."
Glaz Entertainmentis one of the main players within the Brazilian production market, with a slate that includes live action and animated feature films, sitcoms and animated TV series. In 2013, Glaz launched two prime time series: the animated Haunted Tales for Wicked Kids for Cartoon Network (Brazil and Latin America), and the sitcom Internship for Warner Channel (Brazil). The company has also recently released theatrically the live-action comedy Valentine's, distributed by Buena Vista International and helmed by Roberto Santucci, and will release the stop-motion children's animated feature Earthworms, to be launched by Fox Films next December. The company is focused on development, finance and production and brings to the marketplace the highest quality content, with stories that put together both artistic and commercial appeal.
9 Story Entertainment is one of the industry's leading creators, producers and distributors of award-winning animated and live-action content for young audiences around the world.  With one of North America's largest animation studios based in Toronto, 9 Story has over 200 creative and production staff, and has produced over 800 half hours of quality children's and family programming, seen on some of the most respected children's channels around the world across multiple platforms.  The company's distribution arm 9 Story Enterprises represents a growing catalogue which includes several beloved brands such as Arthur, Wibbly Pig, Harriet the Spy: Blog Wars, Wild Kratts and Almost Naked Animals in addition to exciting new series such as Numb Chucks, Camp Lakebottom, Cache Craze, Daniel Tiger's Neighbourhood and Nerds and Monsters. The company recently acquired CCI Kids, the family content division of CCI Entertainment, increasing 9 Story's portfolio to over 1500 half hours of content with popular shows such as Guess How Much I Love You, Joe & Jack, Artzooka! and Extreme Babysitting.   www.9story.com