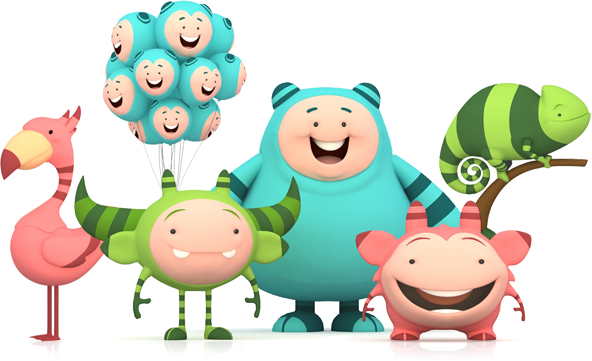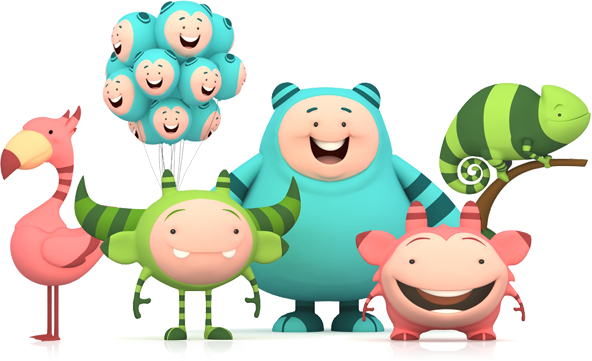 Toronto, Ontario ­ September 11, 2013 ­ Radical Sheep Productions, along with Industrial Brothers Canada, is proud to announce the launch of Yup Yups on multiple platforms this month. Beginning on September 16, 2013 at 7:25pm ET, the 3D animated series will air on Disney Junior Canada with a new episode debuting each night that week. Two apps will be available for Android and Apple devices this month.
The show, created by Matthew Fernandes of Industrial Brothers, features three lovable siblings and focuses on the communication of feelings by changing into silly and magical physical forms. An episode will be featured at the Ottawa International Animation Festival/TAC on September 19th and 21st.
The apps, Yup Yup's Play Park (Free) and Yup Yup's Toybox ($1.99), will entertain kids of all ages with endless fun.  Play Park letss kids pick what their favourite character will transform into. Toybox contain four mini-games: Music Box, The Big Race, Balloon Game and Bubble Game. More games will be available on Disney Junior Canada's website later this month.
"From the moment we were introduced to Green, Pink and Blue, the funny and engaging Yup Yup's characters, we saw the potential for a very strong brand," says John Leitch, President of Radical Sheep Productions.
50 x 2/25 x 5 episodes are now available. For more information please contact Radical Sheep Productions.  Michelle Melanson Cuperus, VP Development and Production at Radical Sheep, will be attending MIPCom in October.
Radical Sheep Productions


Radical Sheep Productions is committed to developing, producing and exploiting innovative, entertaining and high quality content across multiple platforms. With over 400 episodes of award-winning series and successful licensing programs to its name, including the celebrated The Big Comfy Couch and award winning Stella and Sam, Radical Sheep has been an established and acclaimed independent Canadian production company since 1992. Radical Sheep is currently in production on Yup Yups, an animated preschool show for Disney Junior Canada.
Industrial Brothers


Industrial Brothers is a company that believes in having fun while making fun by creating original and interesting ideas. Industrial Brothers is part of the next generation of studios using new technology to create memorable
characters and tell unique stories for kids of all ages.