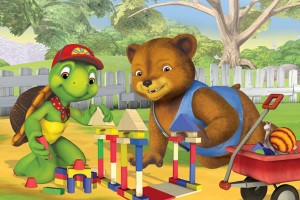 Franklin and Friends come out of their shells on CCTV
Nelvana's hit series reaches 340 million children in China
(October 7, 2013, MIPTV Cannes, France) – Corus Entertainment's Nelvana Enterprises' agent, Ciwen Media Group, has entered into a deal with China's national broadcaster Chinese Central Television (CCTV) to air preschool series Franklin and Friends for the first time on its children's channel, CCTV Kids Channel (CCTV-14).
"We're thrilled to bring Franklin and Friends to more than 400 million households on CCTV Kids," said Colin Bohm, Vice President, Television, Head of Corus Kids. "Franklin's universal childhood experiences will resonate with children in China, just as they do with children in North America and all over the world."
Airing in Chinese, the 52 x half hour hit animated series premiered in China on September 23, and airs from Monday to Friday from 12:30 p.m. to 1:00 p.m. on the channel's Animation World block. As part of the translation, the opening song of the series was recorded by CCTV Kids' popular channel host, Uncle Dong Hao.
The broadcast deal follows Nelvana's content acquisition and representation deal with Ciwen Media Group, which granted the Chinese firm exclusive distribution rights and merchandise representation rights across a broad array of categories for Franklin and Friends as well as several other Nelvana brands.
"Franklin and Friends appeals to children across the globe, and its educational value transcends national boundaries," says Sean Chu, Vice President of Ciwen Kids.  "We are very excited to bring Franklin and Friends to China's children and to be a part of this landmark licensing agreement."
As part of the roll out, Ciwen is launching a merchandise program in conjunction with the CCTV broadcast of Franklin and Friends, which will integrate TV, new media platforms, publishing and consumer products. The first of such deals is a major publishing deal with Jieli Publishing, one of China's leading children's book publishers. Launching with an publishing plan that will see 12 TV tie-in books published before the end of the year, the initial print run of close to half a million books will be distributed nationwide through Xinhua bookstores and independent book and online retailers.
CCTV Kids is a nationwide, free TV channel with universal coverage that is seen in more than 400 million homes and reaches 340 million children under 12. According to China's TV ratings agency, CSM, the channel was ranked #1 among all satellite channels across all genres from May 29 to August 8, 2013.
Based on the best-selling children's book series by Paulette Bourgeois and Brenda Clark, published by Kids Can Press, the CGI-animated TV series, Franklin and Friends, follows Franklin the Turtle as he experiences adventures and milestones, learning lessons along the way with his pals Snail, Rabbit, Beaver, Fox, Goose and best friend Bear. The series airs on Nickelodeon in the US, TF1 in France, and Corus Entertainment's preschool channel Treehouse in Canada, to name just a few of the broadcasters. Franklin and Friends is a Canada-Singapore co-production from Nelvana Limited and Infinite Frameworks.
About Nelvana
Founded in 1971, Nelvana is one of the world's leading international producers and distributors of children's animated and live-action content. Nelvana is comprised of Nelvana Studio and its distribution arm Nelvana Enterprises and owned by Corus Entertainment Inc. Nelvana Studio is a globally recognized studio that produces a stable of award-winning and globally renowned brands that focuses on comedies, preschool, boys and live action. Nelvana's content airs on Corus Entertainment's kids channels in Canada and in over 160 countries around the world. The Nelvana library has well over 3,800 episodes of programming and has received over 70 major international program awards including Emmys(r) and Geminis. Visit the Nelvana website at www.nelvana.com.
About Corus Entertainment Inc.
Corus Entertainment Inc. is a Canadian-based media and entertainment company. Corus is a market leader in specialty television and radio with additional assets in pay television, television broadcasting, children's book publishing, children's animation and animation software. The Company's multimedia entertainment brands include YTV, Treehouse, Nickelodeon (Canada), ABC Spark, W Network, OWN: Oprah Winfrey Network (Canada), Cosmopolitan TV, Sundance Channel (Canada), Movie Central, HBO Canada, Nelvana, Kids Can Press, Toon Boom and 37 radio stations including CKNW AM 980, 99.3 The FOX, Country 105, 630 CHED, Q107 and 102.1 the Edge. Corus creates engaging branded entertainment experiences for its audiences across multiple platforms. A publicly traded company, Corus is listed on the Toronto Stock Exchange (CJR.B). Experience Corus on the web at www.corusent.com.
About Ciwen Kids
Ciwen Kids is the children's edutainment division of Ciwen Media Group, one of China's leading TV producers and distributors, in charge of creation of animated content, media distribution, brand management, and the licensing and merchandising business of kids-oriented IPs which Ciwen owns or represents. Ciwen Kids strives to present China's children with worthwhile, meaningful content in order to create the best edutainment experience possible, and also to provide China's kids consumer products community with an integrated retail solution.