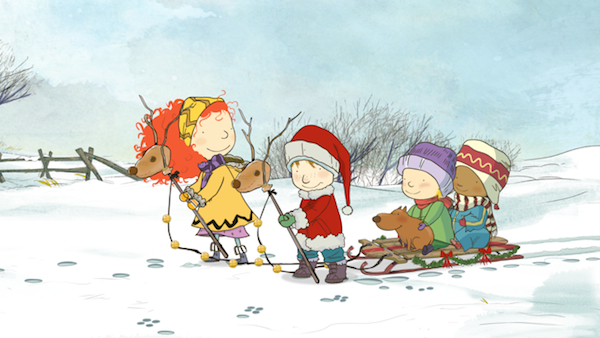 Toronto, Canada – November 27, 2013 – Radical Sheep Productions' Stella and Sam Holiday Special premieres Sunday, December 1, 2013 at 2:25pm ET on Disney Junior Canada and 2pm ET on Disney Junior Canada en français.  It will air throughout the month of December on both channels.
The special features two magical episodes that explore all of the fun that surrounds the winter holidays including tree decorating, gift giving, reindeer, sleighs, a mysterious figure in a red and white hat, and snowmen!  A brand new song and music video will also debut with the special called Holidaying Soon, sung by Juno Award winner Emilie Mover (Stella and Sam: The Album, Featuring Emilie Mover available on iTunes, CDBaby and Maple Music).
The holiday special will entertain kids of all ages by celebrating Christmas with the awe and wonder that Stella and Sam is known for.