Despite the fact that I'm back in Ottawa for the rest of December, I'm going to write a quick post about the Toronto animation scene, and in particular, Animatic TO. I moved to Toronto two years ago, so I can't really say what it was like before that, and I can't really comment on what's going on in other cities, but right now, right here, there's always lots to do. Between the Miyazaki screenings coming up at TIFF, various TAAFI events throughout the year, TAAFI itself, Toons on Tap, TAIS events, CEL screenings… it's a pretty long list.
Recently, we've had the pleasure of adding Animatic TO to that list. Described as "A monthly animation lecture series and social event dedicated to education, inspiration and building community in Toronto's animation scene," it was launched by Barry Sanders, a CG animator at Nelvana. Barry's always been up to something, he's organized screening at Corus Quay of Nelvana Classics like Rock & Rule, reuniting members of the original crew for a Q&A, an event that was repeated to great success at the inaugural TAAFI. This past year, he was heavily involved in the pitch workshops and competition at TAAFI as well.
And now, Barry seems to have figured out his latest thing. I managed to get to last month's chat with Brett Jubinville, one of the founders and partners at Tinman Creative Studios. It was a packed house, and Brett was great. He came prepared, and offered a very witty and candid look at what his experience has been getting a studio up and running.
This week, Barry's lined up Kris Pearn! Kris is a Sheridan grad, and one of the co-directors of the recent Cloudy With a Chance of Meatballs II. I should also mention that Kris is also a terrifically nice guy.
Here's the event description:
Director, Story Artist and certified Canadian Kris Pearn will discuss his exciting journey from head of story on the original Cloudy With a Chance of Meatballs to taking on the challenge of Co-Directing Cloudy with a Chance of Meatballs 2. Find out what it takes to build, destroy and rebuild a story until it becomes a box office success! Twice!
$10 at the door (Cheap!)
@ The Rhino – 1249 Queen Street West
(West of Dufferin on the South side)
Doors 7pm
Talk Starts 7:30pm
The event is this Wednesday night, December 18th. Here's the link to the Facebook group: https://www.facebook.com/AnimaticTO Go "like" it.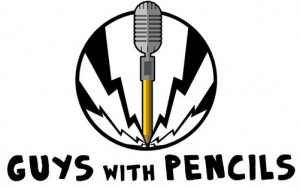 And here's Barry himself, on this week's Guys With Pencils podcast: http://guyswithpencils.tumblr.com/post/70206609773/guys-with-pencils-episode-141-have-you-heard-of