Big Box Retail Gets Animated As if big box retail wasn't animated enough.  A brand new 22-minute pilot inspired by Black Friday riots and underpaid employees on food stamps goes into production.
TORONTO ONTARIO CANADA NOVEMBER 18TH 2013 – Goodwin Badwin Productions and MightyPants Media have just commenced production on a 22-minute adult animated comedy pilot, SuperCenter.  The pilot is privately financed and will be distributed to Mondo Media's 2 million YouTube subscribers in late summer 2014.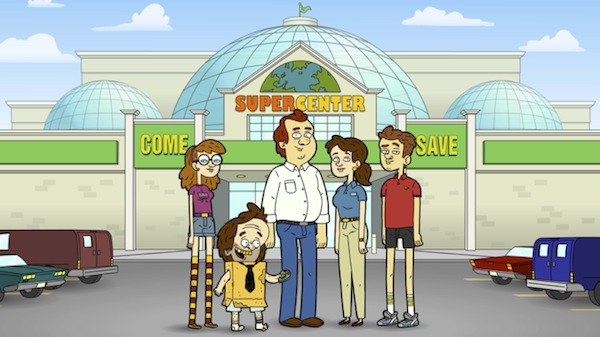 SuperCenter follows the lives of the Morris family, who live in a town where cultural, social and economic prosperity have become synonymous with a massive retail mecca that sells everything one could possibly want – for life or death. The immense store stretches literally for miles, and is aptly equipped with restaurants, lodging and a subway system that allows customers to shop across county lines and possibly even state lines.
Co-creator and Executive Producer Joshua Bowen is excited by the prospects of this project, "Animation allows you to explore social commentary and comedy that live action programming doesn't necessarily permit.  We are excited about the comedic opportunities presented with this concept."
"The big box economy's sudden and powerful affect on our social experience has forever blurred the lines between living and shopping" says Co-creator & Director Tony Grillo, "with SuperCenter, we set the clock forward five years to observe ordinary people cheerfully adapting to the farthest extremes of this odd new world."
Goodwin Badwin Productions is a Toronto based production company lead by Joshua Bowen dedicated to creating, consulting and producer original adult animated comedy. Goodwin Badwin Productions is best known for co-creating and producing the series, Goodwin vs. Badwin, Mrs. Brickles and consulting work with Mondo Media.
MightyPants Media is an Atlanta-based entertainment development studio founded by animation veteran Tony Grillo. Under the banner of his other venture, Flinch Studio, Tony has produced or directed web-based content for Tim Burton, Adam Sandler, Gracie Films, ABC, and Fox Television Studios. MightyPants originally partnered with Goodwin Badwin Productions to develop the popular web series Goodwin vs. Badwin.
Mondo Media – Short, viral and deadly funny! Mondo is where frowns and sadness go to die, and animated series like Happy Tree Friends, Dick Figures and Deep Space 69 sip champagne and eat the finest mermaid sushi. Mondo Media is the most-viewed animation channel on YouTube where it recently passed the 1.6 billion-view mark to become one of the top 10 most-viewed, non-music channels on YouTube. Happy Tree Friends, the company's breakout hit, is viewed on TV in over 50 markets worldwide and is recognized as the most-viewed web series of all time with over 2 billion video views across all distribution platforms since its launch in 2000. The company's revenue is derived from a blend of online ad revenue, television licensing and merchandise.