SLAP HAPPY CARTOONS'   
NERDS AND MONSTERS
PREMIERES WEDNESDAY MARCH 12th at 5:30 p.m. ET/PT ON YTV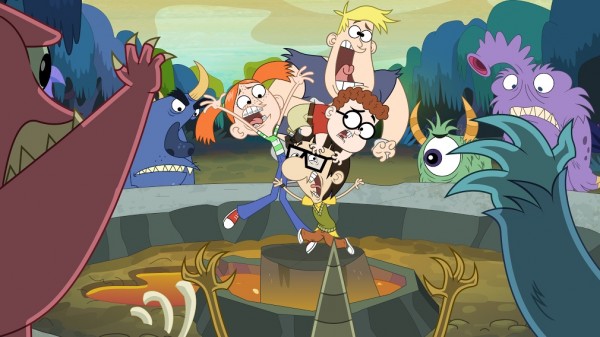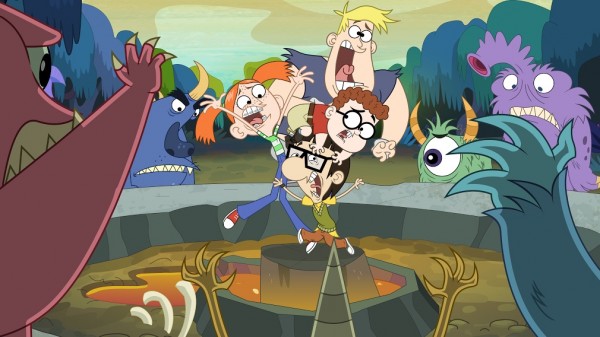 (March 7, 2014 – Vancouver, Canada) – Vancouver-based animation studio Slap Happy Cartoons Inc. is pleased to announce the premiere of their animated series Nerds and Monsters on Corus Entertainment's YTV, debuting Wednesday, March 12 at 5:30 p.m. ET/PT.
The 20 x half hour series is an animated comedy aimed at 6-11 year olds that tosses a group of nerdy kids on a fantastic uncharted island. The tween castaways must use nothing but their smarts to survive the relentless attacks by the island's inhabitants – a tribe of hilarious and hideous monsters that are mistakenly threatened by their human invaders. Lucky for the nerds, these dim-witted monsters don't have any smarts!
"We're thrilled to finally unleash our Nerds and Monsters onto the world," said Kathy Antonsen Rocchio, Co-creator and Partner at Slap Happy Cartoons. "And YTV is the perfect network for these ridiculous nerds and hysterical monsters to call home."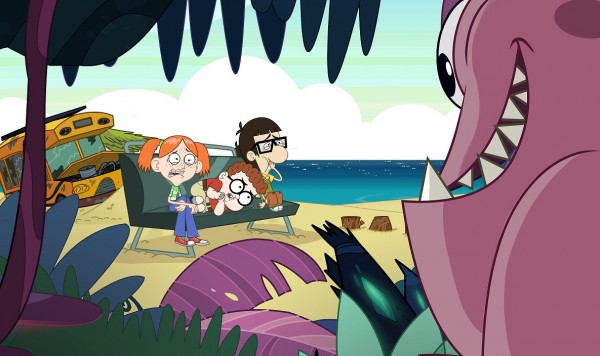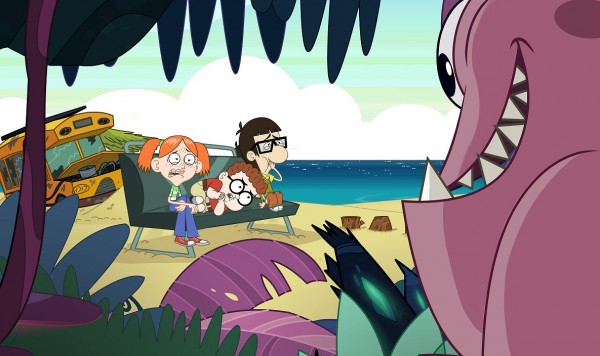 "Nerds and Monsters has a hilarious cast of characters that kids will get a chuckle out of" said Jocelyn Hamilton, Vice President, Programming and Original Productions, Corus Kids. "The series fits perfectly with YTV's lineup of side-splitting animated comedies."
The series will begin airing the following week in its regular timeslot, Wednesdays at 4:30 p.m. ET/PT on YTV.
Nerds and Monsters is distributed by 9 Story Entertainment.
Social Media Links:
#nerdsandmonsters
Website: www.nerdsandmonsters.com
Facebook:     facebook.com/nerdsandmonsters
Twitter:           @nerdsmonsters
Youtube:        youtube.com/nerdsandmonsters
Instagram:    instagram.com/nerdsandmonsters


SLAP HAPPY CARTOONS INC. has offices in Vancouver, B.C. and Los Angeles, Calif. Founded by top animation professionals Kathy Antonsen Rocchio, Greg Sullivan, Josh Mepham and Vito Viscomi, Slap Happy Cartoons works with a global base of clients, which include development partners Comedy Central, Kids WB!, DHX Media, Canucks Sports and Entertainment, Knowledge Kids, Floyd County Productions, and Disney XD. With a wealth of experience from working on award-winning animation productions, the founders launched Slap Happy Cartoons to realize their shared vision and passion for creating original, funny – and sometimes twisted – cartoons for both kids and adults. Visit Slap Happy at www.SlapHappyCartoons.com and Nerds and Monsters at www.NerdsandMonsters.com.
9 Story Entertainment is one of the industry's leading creators, producers and distributors of award-winning animated and live-action content for young audiences around the world.  With one of North America's largest animation studios based in Toronto, 9 Story has over 200 creative and production staff, and has produced over 800 half hours of quality children's and family programming, seen on some of the most respected children's channels around the world across multiple platforms.  The company's distribution arm 9 Story Enterprises represents a growing catalogue which includes several beloved brands such as Arthur, Wibbly Pig, Harriet the Spy: Blog Wars, Wild Kratts and Almost Naked Animals in addition to exciting new series such as Numb Chucks, Camp Lakebottom, Cache Craze, Daniel Tiger's Neighbourhood and Nerds and Monsters. The company recently acquired CCI Kids, the family content division of CCI Entertainment, increasing 9 Story's portfolio to over 1500 half hours of content with popular shows such as Guess How Much I Love You, Joe & Jack, Artzooka! and Extreme Babysitting. www.9story.com  
About YTV Celebrating 25 years in television, YTV is a leading cross platform entertainment brand for kids and families. The channel offers quality entertainment with hilarious animated and live-action comedy series, popular Nickelodeon series, blockbuster movies, top-rated original Canadian programming, music, celebrities and the channel's after-school block, The Zone. Through its multiple platforms and exclusive digital and interactive content, YTV is the voice of Canadian youth culture. YTV is owned by Corus Entertainment Inc., a Canadian-based media and entertainment company that creates, broadcasts and licenses content across a variety of platforms for audiences around the world. The Company's portfolio of multimedia offerings encompasses specialty television and radio with additional assets in pay television, television broadcasting, children's book publishing, children's animation and animation software. Corus' brands include YTV, TELETOON, ABC Spark, W Network, OWN: Oprah Winfrey Network (Canada), HBO Canada, Historia and Séries+, as well as Nelvana, Kids Can Press, Toon Boom and 39 radio stations including CKNW AM 980, 99.3 The FOX, Country 105, 630 CHED, Fresh FM London, Q107 and 102.1 the Edge. A publicly traded company, Corus is listed on the Toronto Stock Exchange (CJR.B). Experience Corus on the web at www.corusent.com