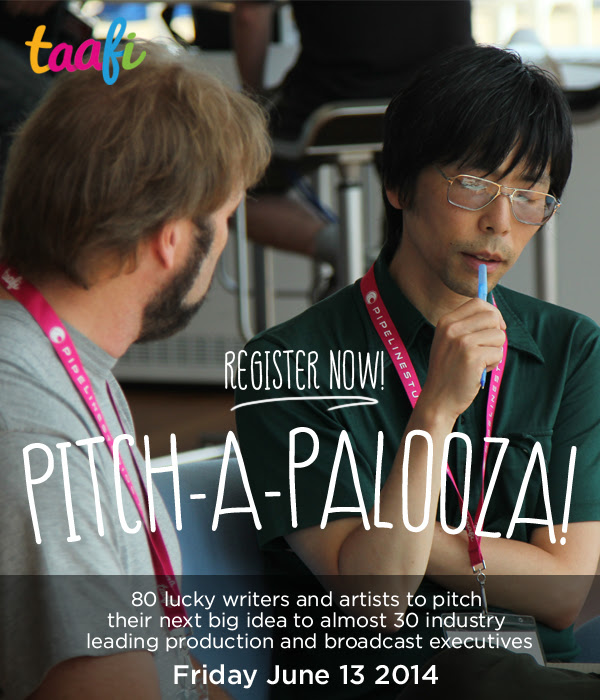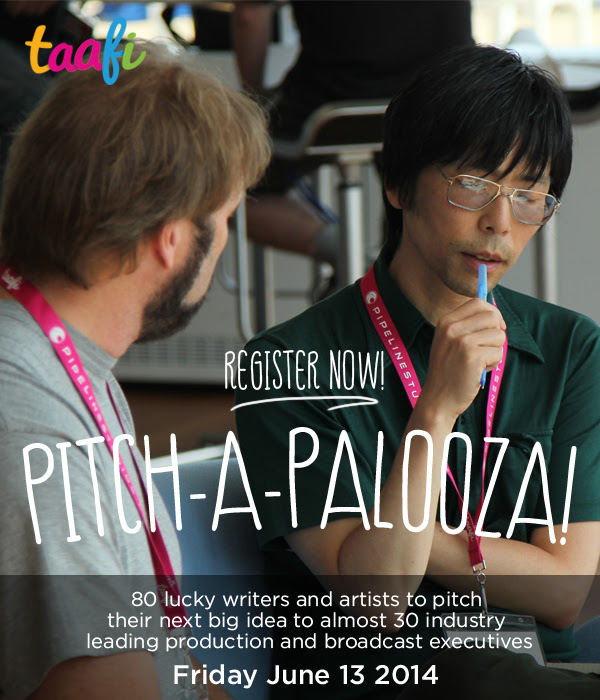 Registration is now open!
Now in its second year, Pitch-A-Palooza at Toronto's animation fest will welcome 80 lucky writers and artists to pitch their next big idea to almost 30 industry leading production and broadcast executives on Friday, June 13, 2014, Corus Quay (25 Dockside Dr, Toronto).  This 'speed pitching' event puts you up front and center with at least three established broadcast and production development executives eager to hear your big animation idea!
Ticket price includes the PitchLab series every Tuesday from May 27 until June 11, facilitated by  Aron Dunn, Executive Producer for Treason Media. PitchLabs gets you all the hottest tips and tricks to help you hone your pitch well in advance of the big day.
Confirmed Pitch-A-Palooza executives include:
Christina Sang-St. Catherine, Producer at Nelvana
Leah Wolfson, Production Executive with YTV / Treehouse
Jillianne Reinseth, Development Executive with Nerd Corps
Natalie Dumoulin, Shaftesbury
Mike Drach, Development Executive at 9 Story Entertainment
Tom McGillis, President at Fresh TV
Suzanne Wilson, TVO Kids
James Nadler, Guru Studio
Terry Tompkins, The Eggplant Collective
Simon Watts, Executive Producer at Pivotal Media
Andrea Gabourie, Executive Producer at Pivotal Media
Michelle Melanson, VP Production and Development at Radical Sheep
Shaleen Sangha, Director of Development at DHX Media
Joan Lambur, Executive Producer at Breakthrough Entertainment
Julie Stall – VP Production – Portfolio Entertainment
Mike Valiquette – Director of Development – Smiley Guy Studios
Martin Markle – Executive Producer – Markle Productions
…with more names to come!