Last updated on June 14, 2014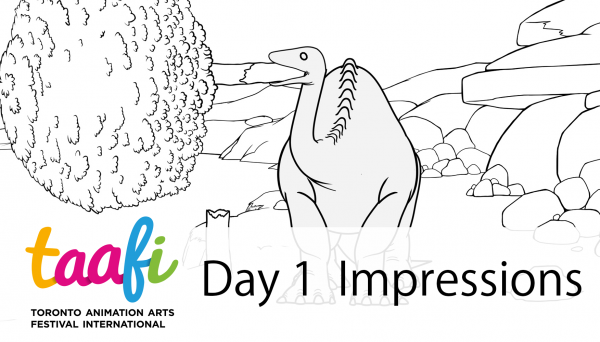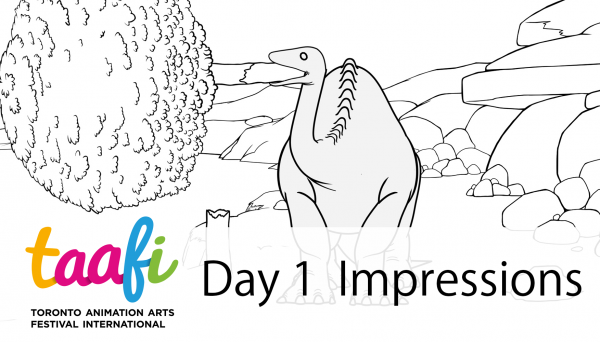 Toronto Animation Arts Festival International 2014 officially started off today.
I didn't attend the first event of the day Pitch-a-Palooza. Perhaps our very own Mike, who was one of many speakers, can shine a light on his experiences.
I just came back from the opening ceremony and screening .  This is my first time at TAAFI so I didn't know what to expect but assumed kind of general affair like other festivals.
Before the introduction and screenings began, music from live band (Sheesham & Lotus & Son) kept lively atmosphere. The music continued on as TAAFI played their new animated tribute to celebrate 100th anniversary of Winsor McCay's Gertie the Dinosaur. Now, I didn't quite pay attention to the event details beforehand so I thought they were just going to play he original film from 1914. I was pleasantly surprised when Pat Thornton started to have conversation with Gertie with new animation by TAAFI crew. With live music and actor interaction, it was really great genuine experience. Great work Barney, and the folks who made it happen.
Next, they played animation from this year's College Animation Challenge. Each of seven Ontario animation schools made 15-20 second sequence of animation based on a theme 'it happened in a pub'. Some were better executed than others but all of them were short and sweet. I really enjoyed the raw nature of these shorts and liked the fact that the festival had a place for local young talents to showcase their works.
The main screening of Jack and the Cuckoo-Clock Heart (2013) Directed by Stéphane Berla and Mathias Malzieu was quite stunning. It had beautiful art direction and unique animation style. I recommend it if you are looking to take a break from North American mainstream animated features.
Overall, the opening event was not as 'grandeur' as I had originally thought. It was small yet excellently put together. The festival directors, Ben and Barnabas' super casual approach in addressing the festival attendees was also great. I look forward to next three days of events and talks.
See you guys at TAAFI.
-Kyu