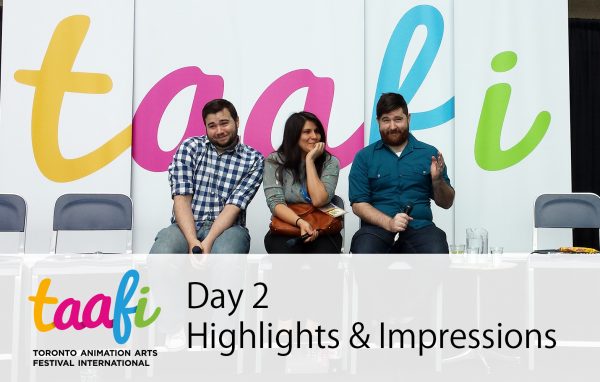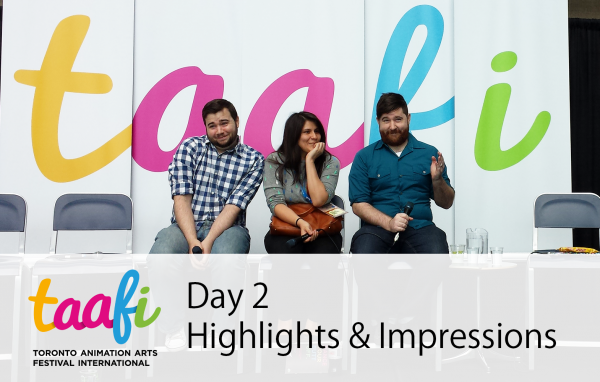 Hey guys, it's midnight. I just got back from full day of TAAFI day 2. The day was really great. I'll write quick summary of what was fun and unique about it.
The first place I visited after I picked up my pass was the Animation Arts Maarket. That's where some studios and artists had table set up for promotion and to sell cool stuff they made. Besides the great talents that had their table set up there, what really stood out for me was that the Maarket was free admission. Yes FREE. It almost sounds like no brainer but I've been to few festivals and conventions where the 'artist alley' was accessible for pass holders only. Paying entry fees just to spend more money never made sense to me. I'm glad Taafi agrees.
My TAAFI event schedule mostly consisted of going to talks. The first one I sat in for was "Creating Bee and Puppy Cat" panel with Natasha Allegri moderated by Adam and Andrew from Guys with Pencil podcast. (photo above) This was very entertaining talk as Adam and Andrew got to do what they do best-having super casual conversation with their panelist. The audience got to take a peek into Natasha's personality and really connect the creative mind behind the show and what makes Bee and Puppycat so unique. Apparently, ketchup chips make an appearance in one of the upcoming episodes on Bee and Puppycat.
Next, I went to the talk by Jessica Borutski on "Redesigning Bugs Bunny". Jessica gave insight into what it was like to work with Warner Brothers and the reasoning behind the choices she made when redesigning the classic characters. It was interesting to hear Jessica talk about the fault of The Looney Toons Show and how she wants to address a lot of it as Supervising Director on Wabbit. It was great to see all the gorgeous design bible pages from The Looney Toons Show. I personally don't see the reasons for negativity around the redesign but lets not open that can of worms…
Jim Zub had more of instructional talk about how to work with a client at his 'Playing in Someone Else's Sand Box' Panel. Though the bullet points seemed  fairly obvious, backing it up with his personal experience stories definitely made it valuable to listen to.
Stephen Silver gave talk on 'How Not to Get Screwed'. If you've been following Stephen on the topic ever since he started spreading the message on the internet, it was similar talk but one can never hear it enough.
Afterwards I went to Sheridan Alumni event. Between free food, meeting familiar faces, conversations with new faces, and fantastic view from 8th floor of the building, there weren't anything else that could have made it better. Oh, Italy beat England 2-1 during that event so I think it was extra special for Tony Tarantini (instructor at Sheridan Animation)
To wrap up the day, The Nelvana Bouncing Ball party was held at Corus Atrium. More drinks and people to talk to, it was good way to wind down. There weren't any bounding ball but there were half dozen storm troopers walking around.
See you at day 3 tomorrow.
-Kyu
If you were at TAAFI, share us your experiences. I'm curious to know what I missed. If you had a table, I'd love to know how your day went as well.