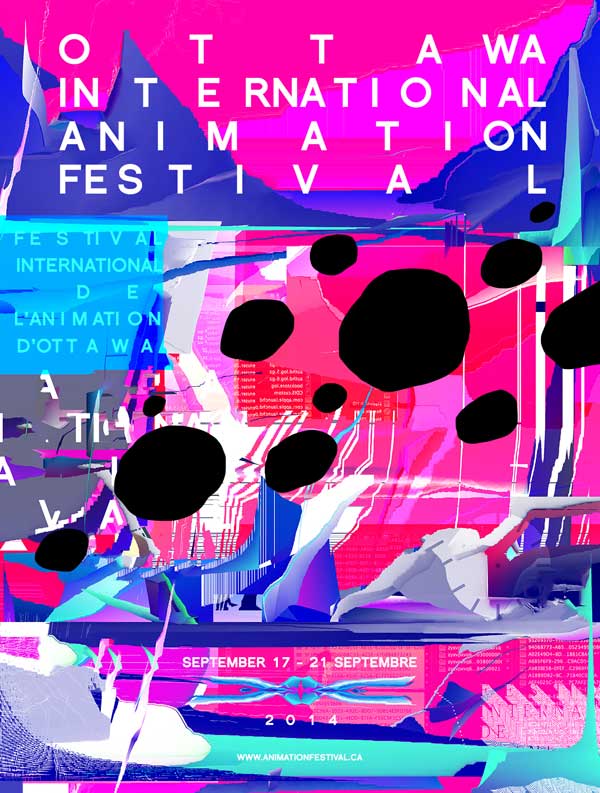 CANADIAN COMPETITION SHINES ON THE WORLD STAGE
Ottawa (July 17, 2014) – The Ottawa International Animation Festival (OIAF) is pleased to announce the Short Film Competition for 2014. Once again, Canada is well represented with 53 films in the spotlight.
From a total of 2185 entries received, 110 films representing 24 countries have been chosen for the Official Competition.  An additional 71 outstanding films will be screened in the Showcase programs. This year 11 Canadian short works are featured in the Official Competition and 46 in Showcase.
"Animation is something that Canadians excel at. Our professional artists and students continually represent us on the world stage at international film events such as the OIAF and are often nominated at the Academy Awards. Our series work is seen around the world." says Artistic Director Chris Robinson.
Canadian selections range from the narrative short Me and My Moulton (dir. Oscar winner Torill Kove) to Winnipeg metal band KEN mode's video for 'The Terror Pulse' (dir. Christopher Mills) and from the experimental 1000 Plateaus (dir. Steven Woloshen) to the CRIME: The Animated Series by Toronto's Style5.TV.
Audiences will also have a chance to take in the Canadian Showcase and the Canadian Student Showcase.
This year's Festival will also showcase the NFB feature film Seth's Dominion (dir. Luc Chamberland) in the Official Competition and the special program Hot Freaks: the New Generation of Canadian Animation.
A complete list of OIAF 14 competitors can be found here: https://www.animationfestival.ca/index.php?option=com_oiaf&task=showselections
ABOUT THE OIAF
The Ottawa International Animation Festival (OIAF) is one of the world's leading animation events providing screenings, exhibits, workshops and entertainment since 1976. OIAF is an annual five-day event bringing art and industry together in a vibrant hub, with a total attendance of 28,000 artists, producers, students and animations fans from around the world.
This year's Festival runs from September 17-21. For more information about the Ottawa International Animation Festival as well as media passes, visit www.animationfestival.ca.