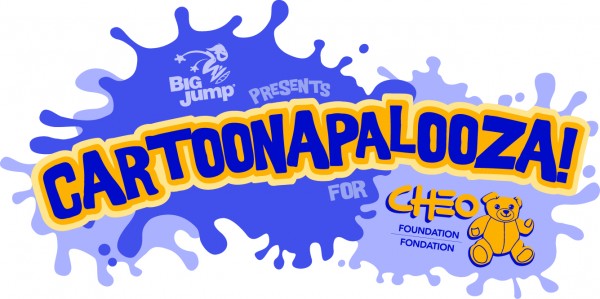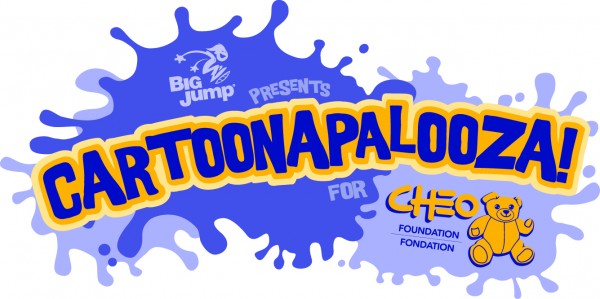 We're big fans of community-building here at CAR, that much should be obvious. Based in Toronto, we kind of take some of it for granted. We've got year round events from TAAFI, Animatic TO, various drawing events, art shows, all kinds of reasons to get together. For years now, Atomic Cartoons in Vancouver has been sponsoring a big ole night out they call Cartoonapalooza. I've only ever seen the pictures, but in true Atomic style, it looks like a good time is had by all. These kinds of events are great. Anything that makes you talk to someone you might not usually talk to is a good thing in my book. So I'm especially pleased to see the guys at Big Jump in Ottawa taking a cue from Atomic and harnessing the power of Cartoonapalooza and putting it towards a good cause.
Here's the deets, straight from Cory Morrison:
BIG JUMP Presents Cartoonapalooza for CHEO was conceived originally as an animation community building event, much like Atomics Cartoonapalooza in Vancouver.  Rob Davies of Atomic was kind enough to fill us in on their event  and how their Cartoonapalooza helped create a sense of industry and community spirit, something we really wanted to build on here in Ottawa.  There are over 500+ artists, producers, executives and all around incredible people in Ottawa that work really hard to brighten a kids day with fantastic stories and beautiful animation.  We wanted to start an annual event that brings all the studios together for a night out and let loose in an environment where studios mingled with other studios, where freelancers emerged from their basements and professionals and executives stood shoulder to shoulder to celebrate our industry and have some FUN!
CHEO came about as a result of my partner Rod Amador and our CFO Ram Srinivasan being closely affiliated with the organization.  Their children have spent a considerable amount of time there due to various complications.  The care, love, unprecedented attention and commitment that the doctors and staff have provided to the children and the families that need them are extraordinary.  It made absolute sense to combine our Cartoonapalooza with CHEO, and so here we are.   Big kids helping little kids… and the response has been overwhelming, to say the least! 
Our sponsors to date include: PIP, MERCURY, JAMFILLED, THE KRATTS BROTHERS, FUEL, ATOMIC AUDIO, THE OIAF, EDWARDS LAW, GRASSROOTS TECHNOLOGIES, NOUR ABRAM PHOTOGRAPHY, DIVE COMMUNICATIONS, TOONBOOM and more to come!
The event is called Cartoonapalooza for CHEO
When: September 11th, doors open at 7pm
Where: Patty Bolands 101 Clarence Street in the market
Tickets are $20 and include 1 free drink at the bar.
We have live music including : James LeClaire and the Cable 22's and The True Man Show
There will be a raffle with some fantastic prizes… so bring your wallets.
We are dropping tickets and posters off to all the Ottawa area studios so if you are working at one of them you should be able to pick one up. Hurry, because tickets are limited.
If you are a freelancer and work from home please contact me directly at cory@bigjumpent.com for tickets.
Attached is the poster and separate logo.
Look forward to seeing you there!
Cory