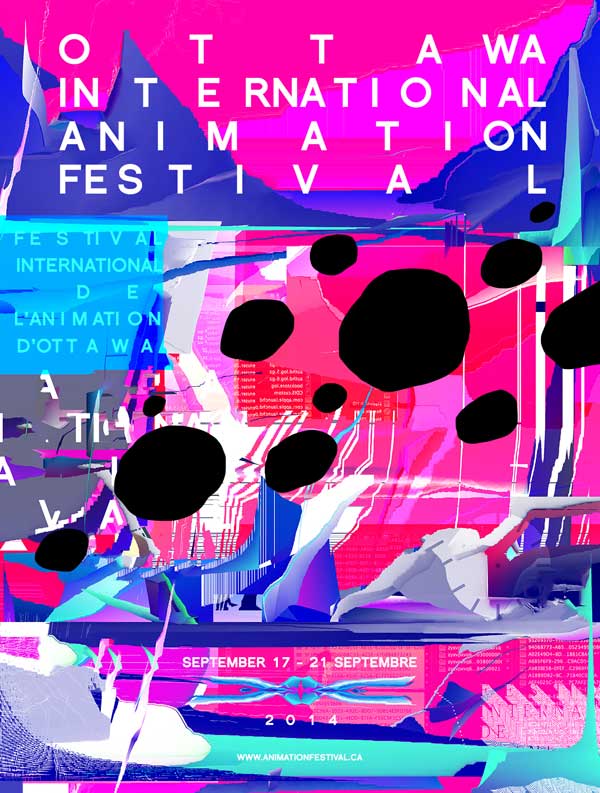 A WORLD OF ANIMATION IN THE CAPITAL
OIAF JUST TWO WEEKS AWAY!
OTTAWA, Ontario (September 3, 2014) – From September 17-21, Ottawa International Animation Festival (OIAF) audiences will feast their eyes on the edgiest, most innovative animation the world has to offer.
Now in its 38th year, the OIAF is an event that unites artists, industry professionals, students and the public for a unique experience that can be compared to no other.  The OIAF returns this year to treat its audiences to another slate of Canadian and International animation gems.
As an industry leader, the OIAF has welcomed a slew of animation legends such as Norman McLaren, Frederick Back, Chuck Jones, John Lasseter, Richard Williams, David Silverman (The Simpsons), Henry Selick, and Peter Lord every year since 1976. This year is no exception as the festival's roster includes a star-studded list of animators such as David OReilly (Her), Tom Warburton (Code Name: Kids Next Door), Ron Clements and John Musker (The Little Mermaid, Aladdin), and Oscar-winner, Torill Kove (The Danish Poet).
Directors from major studios such as the Walt Disney, Laika, the National Film Board of Canada, Pixar, Cartoon Network, and Nickelodeon, will also be in attendance for talks, workshops as well as the The Animation Conference (TAC).
Highlights of the event this year include:
•        5 short film competitions featuring the world's latest and greatest animation.
•        5 feature films that will be battling it out for the Grand Prize. Among them is the acclaimed Canadian animation documentary, Seth's Dominion.
•        Superstar animation and video game (Mountain) creator David OReilly will be in town for a one-on-one talk with Chris Robinson and a retrospective screening of his work. He will be available for interviews during his stay.
•        Pioneers of Animation: Walt Disney Animation Studios is a wide-ranging tribute to the world's most famous animation studio highlighted by an anniversary screening of The Little Mermaid (introduced by the directors) and screenings of classic Disney short films selected by Leonard Maltin and Jerry Beck.
•        LAIKA studio will be joining us for a special Behind The Scenes look at their new film The Boxtrolls.
Be sure to visit animationfestival.ca or download our app for all the latest updates and information!
The Ottawa International Animation Festival (OIAF) is one of the world's leading animation events providing screenings, exhibits, workshops and entertainment since 1976. OIAF is an annual five-day event bringing art and industry together in a vibrant hub, with a total attendance of 28,000 artists, producers, students and animation fans from around the world.
OIAF 14 runs from September 17-21 at the Bytowne Cinema, National Gallery, Arts Court, Chateau Laurier, St. Brigids, the Ottawa Little Theatre, and Silvercity. For more information about the Ottawa International Animation Festival as well as media passes, visit www.animationfestival.ca.