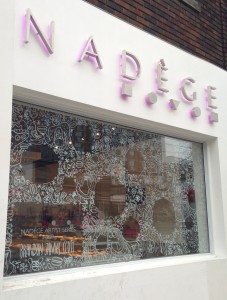 Nadege is an upscale bakery in Toronto's super hip Queen West neighbourhood. Their particular claim to fame is what some people consider the best Macaron in the city.
They even have a mission statement:
Welcome to Nadège, a place where your senses are tickled by excellence. Combining the art of French pastry with fresh, modern panache, our exquisite decadent treats will tempt you back for more.
We can't help it. Life's sweeter that way.
Seriously, my mom LOVES them.
As part of a promotional campaign, they've launched an artist series. Here's the description:
This collector's series features the imaginative work of six Canadian artists from six disciplines. With the goals of highlighting our diverse arts community and celebrating our wealth of home-grown talent, the collaborative project has culminated in a colourful parade of unique and original keepsake boxes. The six part series will introduce a new monthly macaron box design as well as a custom macaron flavour that is chosen by each artist and developed by Chef Nadege Nourian.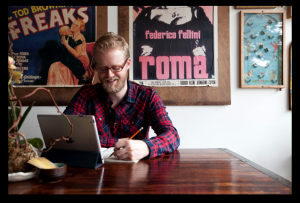 And this month's featured artist? None other than Guru Studios Art Director and creator of the hit animated television series Justin Time, Brandon James Scott!
Here's how they describe him in their literature:
Brandon James Scott is an animation artist based in Toronto. He is the Art Director of one of Toronto's top animation studios and is the creator of the Canadian Screen Award winning and Emmy nominated television series, Justin Time. For his box design, Brandon developed a narrative-based pen and ink comic design. Scott used each facet of the box for his comic book-style narrative that features a gathering of animals collecting enchanted berries and performing a mystic macaron ritual.
His flavour is Frosted Forest Berry.
Pretty cool promo. Here's some pics.