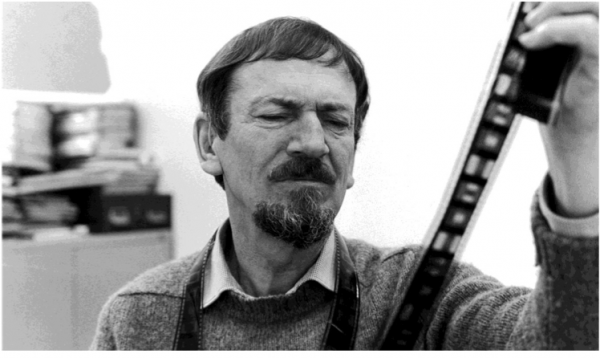 PASSING OF DIRECTOR-PRODUCER RENÉ JODOIN
An early collaborator of Norman McLaren, founder of the NFB's French Animation Studio and recipient of the 2001 Prix Albert-Tessier
January 26, 2015 – Montreal, National Film Board of Canada (NFB)
Director-producer René Jodoin passed away on January 22, 2015, in Montreal, at the age of 94. Born in Hull, Quebec, in 1920, Jodoin was recruited to the National Film Board of Canada (NFB) by Norman McLaren in 1943 after graduating from the École des Beaux-arts de Montréal. He became head of the NFB's science film program in 1963, and in 1966 was mandated to create an animation studio within the NFB's new French Production sector.
He soon brought together a solid team of young filmmakers, including Pierre Hébert, Co Hoedeman, Paul Driessen, Francine Desbiens, Suzanne Gervais and Jacques Drouin. The collaboration he initiated with the National Research Council of Canada led to the production of a film that would be a landmark in the history of computer-assisted animation: Hunger, by Peter Foldès (1974, Special Jury Award at Cannes). It was under his direction that the French Animation Studio experienced its golden age, producing films such as Balablok by Bretislav Pojar (Palme d'Or for best short film at Cannes, 1973) and The Sand Castle by Co Hoedeman (Annecy Festival Grand Prize in 1977 and Oscar for best animated short).
Quick Facts
René Jodoin's works
In addition to the two films he co-directed with Norman McLaren (Alouette, 1944; Spheres, 1969) and a number of educational films, Jodoin created a remarkable body of abstract works exploring geometric forms..
One of his best-known films, Notes on a Triangle (1966), is a masterpiece of cut-out animation, a veritable monument of rigour and precision.
For Rectangle & Rectangles (1984), a computer-animated film that bombards the viewer with a continuously flickering image, the veteran director collaborated with the young Daniel Langlois, who would go on to found Softimage.
After retiring from the NFB in 1985, Jodoin continued his graphical experiments on his home computer, resulting in his final film, Between Time and Place, in 1998.
Three years later, in 2001, the Government of Quebec presented Jodoin with the Prix Albert- Tessier.
Quotes
"The National Film Board of Canada has lost one of its pioneers," said the Government Film Commissioner and NFB Chairperson, Claude Joli-Cœur. "He was an outstanding visionary who helped make our cinema unique and avant-garde."
Director Pierre Hébert said, "René Jodoin was a mentor for an entire generation of animators, and one of the people who helped introduce computers to animated filmmaking, at a time when that was far from an obvious idea."