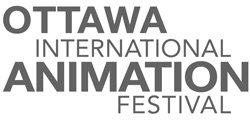 World-Leading Animation Event Seeks Submissions for International Showcase in Ottawa
OTTAWA, ON, CANADA (February 24, 2015) – The Ottawa International Animation Festival (OIAF), one of the world's most respected film festivals, is seeking state-of-the-art, thoughtful, funny and provocative animated films to showcase at venues in the national capital region from September 16th through the 20th.
All animators are invited to submit their recent work into one of the Festival's eight categories:
Feature Animation
Narrative Short Animation
Experimental/Abstract Animation
Undergraduate Animation
Graduate Animation
Commissioned Animation
Short Animation for Children
Animated Series for Children
Festival hopefuls are encouraged to read the Official Rules and Regulations available on the OIAF website before submitting their work.
"We've made some changes to the categories this year. We eliminated the school showreel and high school categories along with merging series, promotional and music video into a new commissioned category," said the Festival's Artistic Director, Chris Robinson. "We think this will strengthen an already strong competition selection."
The OIAF will be accepting entries for this year's competition until May 15th, and DVDs and submission URLs until May 29th. There is no entry fee.
Each year the OIAF receives more than 2,000 entries from all over the world. Each submission is carefully reviewed by the Festival's in-house selection committee. Approximately 150 films will be chosen for Official Competition and Out-of-Competition Showcase screenings.
Prizes are awarded to the top films in each category. The Official Competition will be decided by a peer jury of animators, filmmakers, producers, directors, and artists. This year's jury includes Chris Dainty (Ottawa, Canada), Kasper Jancis (Tallinn, Estonia), Maral Mohammadian (Montreal, Canada), Igor Prassel (Slovenia), Leah Shore (Brooklyn, NY, USA), and Saschka Unseld (Hamburg, Germany).
For more information about this year's Festival, as well as the online entry form, visit the OIAF website at www.animationfestival.ca. Questions about submitting a film may be sent to entries@animationfestival.ca or made by telephone at 613-232-8769.
The Ottawa International Animation Festival (OIAF) is one of the world's leading animation events providing screenings, exhibits, workshops and entertainment since 1976. OIAF is an annual five-day event bringing art and industry together in a vibrant hub and attracting more than 28,000 artists, producers, students and animation fans from around the world. For more information, visit the OIAF website at: www.animationfestival.ca.