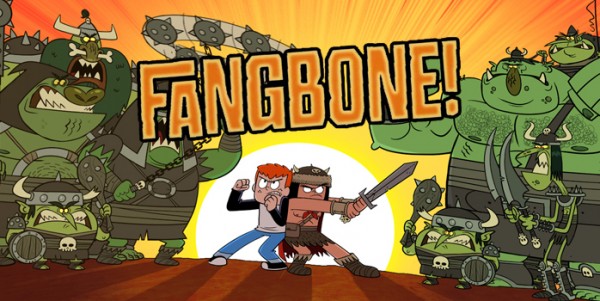 Toronto, March 5, 2015 – DHX Television, the broadcasting division of DHX Media Ltd., is heading to the drawing board for more animation after ordering the new comedy adventure series Fangbone! from Radical Sheep Productions. It was announced today that production has commenced on 52 x 11-minute episodes of the animated series, based on the bestselling graphic novel series Fangbone: Third Grade Barbarian by Michael Rex. DHX Television plans to debut the series on Disney XD Canada and has slated it for a Spring 2016 release.
"Adventure, fantasy and comedy are essential when creating programs for our audience and Fangbone! has all of these elements in spades," said Michael Goldsmith, Director, Original Programming, DHX Television. "With our talented production partners at Radical Sheep working alongside Michael Rex to transform this story into a series, we have no doubt that fans will be able to both connect with and relate to Fangbone and Bill's unique adventure."
The Fangbone! pilot received the 2015 Kidscreen Award for Best One-Off, Special or TV Movie.
Fangbone! is the story of a young barbarian warrior from Skullbania who travels through a magical portal into the suburbs of our world and lands suddenly in Eastwood Elementary School. His mission: to protect the blackened big toe of Venomous Drool from being reunited with its master – the evilest sorcerer in current day existence. With the help of his new sidekick Bill, Fangbone embarks on a quest to outwit Drool's monsterish minions while discovering the modern world.
"We are thrilled to be producing Fangbone! with DHX for Disney XD Canada. Everyone has fallen in love with Michael Rex's books and we can't wait to share Fanbone! with kids around the world," said Michelle Melanson Cuperus, Executive Producer, Radical Sheep Productions Inc.
The Fangbone! pilot, which premiered in May 2014 on Disney XD Canada, recently received the 2015 Kidscreen Award for Best One-Off, Special or TV Movie in the Kids category and was nominated for Best Animated Program or Series at last week's Canadian Screen Awards. Radical Sheep and DHX Television have seen great success in their past partnerships with the critically-acclaimed series Stella and Sam airing on Disney Junior, along with the preschool series Yup Yups.
Fangbone! is developed and produced by Radical Sheep Productions Inc. Michael Rex, along with John Leitch and Michelle Melanson Cuperus of Radical Sheep, serve as Executive Producers with Susie Grondin as Supervising Producer. Simon Racioppa and Richard Elliott also serve as Executive Producers and Showrunners. Fangbone! is supported by the Canada Media Fund.
About DHX Television
DHX Television is comprised of Family Channel, Disney XD and Disney Junior (English & French) and is part of DHX Media Ltd. (TSX: DHX.A, DHX.B), a leading creator, producer, marketer and broadcaster of family entertainment. DHX Media Ltd. markets and distributes its library of more than 11,000 half-hours of entertainment programming worldwide, and licenses its owned properties through its dedicated consumer products business. DHX Media Ltd.'s full-service international licensing agency, Copyright Promotions Licensing Group Ltd. (CPLG), represents numerous entertainment, sport and design brands. DHX Media Ltd. has offices in Toronto, Los Angeles, Vancouver, Halifax, London, Paris, Barcelona, Milan, Munich and Amsterdam.