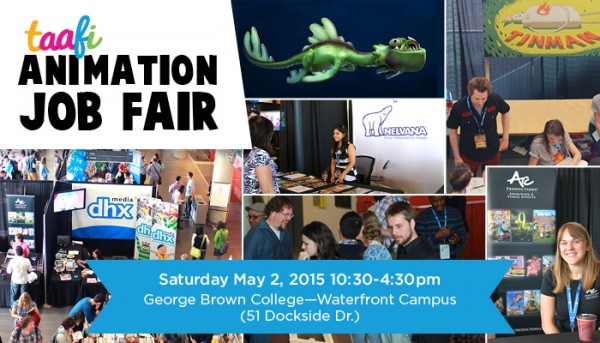 Canadian and US Studios Battle for Talent at Toronto Animation Job Fair
TAAFI helps the booming Canadian animation industry connect with much needed talent
TORONTO, Ontario (April 20, 2015) – The Toronto Animation Arts Festival International (TAAFI) is pleased to announce the Animation Job Fair will be held on May 2 at George Brown College – Waterfront Campus. This free to attend animation recruitment event is targeted at connecting top studios with animation, visual effects veterans and student job seekers, during a critical hiring boom in the animation industry.
Sponsored in part by Toronto's Nelvana Entertainment and Pipeline Studios, the TAAFI Animation Job Fair list of exhibitors includes 9 Story Media Group, Arc Productions, Bardel Entertainment, DHX Media, Industrial Brothers and Bento Box Entertainment from California. TAAFI will be announcing more studios in the next couple of weeks and invites new exhibitors to register today.
TAAFI Animation Job Fair features include:
Exhibitors' Concourse – studio and recruiting booths allowing direct access to leading studios and schools in animation, visual effects and gaming
The Interview Zone – recruiters meet one-on-one with potential candidates
The Presentation Zone – features inspirational and informative talks for attendees
Not just for students; job seekers are invited to get their portfolios and business cards ready, and register today for the TAAFI Animation Job Fair, Saturday May 2 at George Brown College – Waterfront Campus, 10:30 a.m. – 4:30 p.m: http://taafi.com/animationjobfair
Studios interested in securing a booth at the TAAFI Animation Job Fair can download the Exhibitor Kit and secure their booth at http://taafi.com/exhibitors or contact our event team at jobfair@taafi.com.
About Toronto Animation Arts Festival International – TAAFI
The Toronto Animation Arts Festival International, or TAAFI, is Toronto's first and foremost international animation festival. Developed with a mandate to celebrate the many forms of animation from around the world, and to support and nurture the industry and community that creates these art forms. Join us for events throughout the year, including our next festival – April 22-24, 2016
Social media links:
Twitter: twitter.com/thetaafi
Facebook: facebook.com/atthetaafi
Vimeo: vimeo.com/thetaafi
RSS Feed: feed://taafi.com/blog/rss