Animator Turns to Horror: Vote for Minz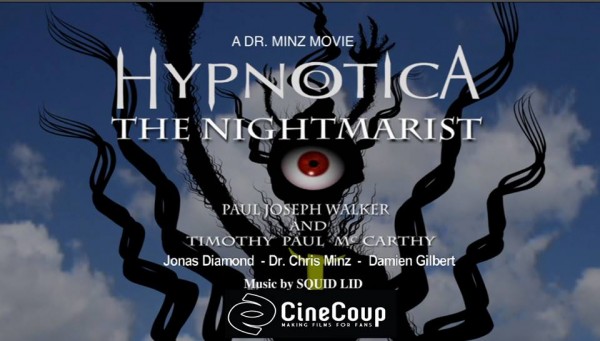 Toronto animator/painter/filmmaker/Kensington Market fixture/outlandish madamn, Chris "DR. MINZ" Minz is embarking on an ambitious enterprise. He's working on a horror film, and is participating in the Cinecoup Accelerator Contest. The prize? ONE MILLION DOLLARS. All true. But let's let Minz tell you about it:
Notorious Toronto Animation filmmaker and director, Chris Minz, aka DR. MINZ (director of music videos for Barenakedladies, Trey Gunn, Kevin Hearn and Adrian Belew to name a few) is participating in THE CINECOUP ACCELERATOR CONTEST for 1 Million dollars.  Minz's horror film, HYPNOTICA The NIGHTMARIST,  is a blend of live action and visceral horrifying animation.  It's about a writer who's hypnotism experiments go very bad releasing an ancient evil spirit, THE NIGHTMARIST.
Heres a link to a 30 second trailer,  check it out – including a cameo by SMILEY GUY'S JONAS DIAMOND:
THE VOTING PROCESS at CINECOUP will decide if dr. minz's sinister animation plan will be in the TOP 15 on the way to a ONE MILLON DOLLAR BUDGET:  Check it out and vote here: 
At this stage they are enjoying the distinction of creepying everyone out with the most unique horror film in the competition, causing the fans to shout, " SHOW MINZ THE MONEY. "