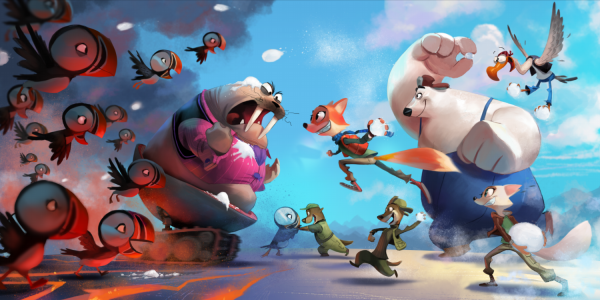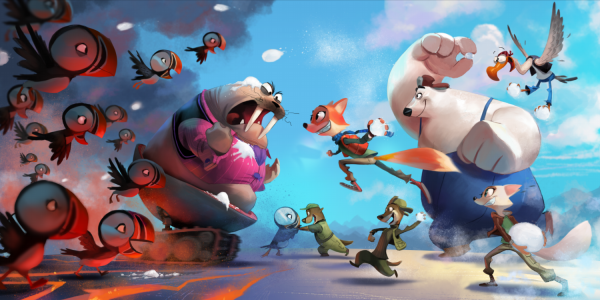 JOHN CLEESE, ALEC BALDWIN, JAMES FRANCO, ANJELICA HUSTON, HEIDI KLUM, AND OMAR SY BOARD AMBI PICTURES' 3D CGI ANIMATED FAMILY FILM "ARCTIC JUSTICE: THUNDER SQUAD"
May 5, 2015 — Andrea Iervolino and Lady Monika Bacardi's AMBI Pictures has begun securing its voice cast for the epic 3D, CGI animated family film "Arctic Justice: Thunder Squad."
Alec Baldwin ("The Departed," "Blue Jasmine," "Mission Impossible – Rogue Nation"), John Cleese ("A Fish Called Wanda," "Monty Python and the Holy Grail," "Life of Brian"), James Franco ("The Interview," "127 Hours," "Spider-Man"), Anjelica Huston ("The Royal Tenenbaums," "The Addams Family," "Prizzi's Honor"), Heidi Klum ("The Devil Wears Prada," "Project Runway") and Omar Sy ("The Intouchables," "X-Men: Days of Future Past," "Samba") will all lend their voices for the film, directed by veteran animator Dimos Vrysellas, who has worked on animation hits such as "Shark Tale," "The Prince of Egypt," and "Spirit: Stallion of the Cimarron."
AMBI Group Principals Andrea Iervolino and Lady Monika Bacardi ("The Humbling," "In Dubious Battle" "All Roads Lead to Rome") are producing this feature through their Toronto based studio, AIC Movie Inc. – the holding company of a group of Canadian corporations specializing in production, post production executive production and distribution of animated projects, as well as live-action films and television programs.
Cal Brunker, animator for hits such as "Despicable Me" and "Ice Age 4," and Bob Barlen ("Escape from Planet Earth") co-wrote the screenplay.
AMBI Distribution, the worldwide sales arm of the AMBI Group, is overseeing worldwide distribution for "Arctic Justice: Thunder Squad," and will begin closing deals in Cannes next week.
When the sinister Doc Walrus (voiced by John Cleese) hatches a secret plot to accelerate global warming and melt the arctic circle, a rag-tag group of inexperienced heroes (voiced by Franco, Baldwin, Huston, Klum and Sy) must come together to foil his evil plans and save the arctic.
Said Iervolino, "Having had the pleasure of working with several of these immensely talented actors we know we will have a lot of fun making this movie, which will resonate on the screen. This will be a brilliant animated feature that is hugely enjoyable for kids, grownups and everyone in between. There is something for everyone here and we're proud that it also delivers an environmental message that everyone can get behind!"
"There is a strong market demand for high quality animated family films and we have ambitions to be a major player in this space, starting with 'Arctic Justice,' adds Lady Monika. "There is so much to love about this project – it's a perfect story to be realized though CGI animation – and in 3D. This is a defining project for AMBI and we're very excited to move forward with it."
"Arctic Justice: Thunder Squad": The Story
Swifty, an arctic fox, dreams of becoming one the famous Top Dogs, a team of huskies that deliver packages for the Arctic Blast Delivery Service. In the Arctic, everything comes from somewhere else and the delivery service is the backbone of the community. Which make the Top Dogs the Arctic's every day heroes.
In an effort to prove himself, Swifty secretly commandeers a delivery sled to takes a mysterious package to a secret, icy, fortress where he comes face to face with Doc Walrus (John Cleese), a blubbery evil genius who walks around on robotic legs, and commands a loyal army of oddly polite puffins. Swifty stumbles upon Doc Walrus' evil plan to drill to the center of the Earth to unleash enough lava to melt the polar ice caps in order to flood the planet and become be king of the world.
Now, Swifty has to enlist the help of his friends: PB (Alec Baldwin), an introverted polar bear, Lemmy (James Franco), a scatter-brained rock and roll albatross, Sal (Omar Sy) and Weez (Heidi Klum), two conspiracy theorist otters, and Jade, a red fox, who's a tough as nails mechanic that Swifty has a secret crush on. This ragtag team has to band together and overcome their differences if they're going to stop Doc Walrus and his army of Puffins from destroying the world.
About AMBI
AMBI Group is a consortium of vertically integrated film development, production, finance and distribution companies wholly owned and operated by Andrea Iervolino and Monika Gomez del Campo Bacardi, Lady of Bayfield Hall, better known as "Monika Bacardi."
From offices in Beverly Hills, Europe and Canada, AMBI is dedicated to making and delivering high-end, commercial movies for global audiences. With a mandate to serve as a top-tier supplier of mainstream projects for both the studios and major independent distributors worldwide, AMBI pursues top Hollywood talent and international stars and produces six to eight feature films a year.
In addition to "Arctic Justice: Thunder Squad," AMBI's burgeoning film slate includes James Franco's "In Dubious Battle," featuring an ensemble cast that includes Franco, Nat Wolff, Selena Gomez, Vincent D'Onofrio, Robert Duvall, Ed Harris, Bryan Cranston, Josh Hutcherson, Zach Braff, Analeigh Tipton, Ashley Greene, Ahna O'Reilly, John Savage and Sam Shepherd; the sci-fi thriller "Rupture" (starring Noomi Rapace), which will be produced alongside "American Sniper producer " Andrew Lazar; the recently wrapped romantic comedy "All Roads Lead to Rome," starring Sarah Jessica Parker; Barry Levinson's acclaimed drama "The Humbling," starring Al Pacino; the sci-fi action thriller "Andron: The Black Labyrinth," starring Alec Baldwin and Danny Glover; an English language remake to Arto Halonen's award winning Finnish feature "Princess;" the thriller "Hope Lost," starring Danny Trejo, Mischa Barton and Michael Madsen; and the action-thriller "2047 – Sights of Death."
Andrea Iervolino has produced, funded and distributed over 50 feature films including "The Merchant of Venice" and "The Anatomist," to name a few. He is considered one of the youngest and most accomplished entrepreneurs in the Italian film industry.
Lady Monika Bacardi is the widow of Luis Adalberto Facundo Gomez del Campo Bacardi, Lord of Bayfield Hall, known as Lord Luis Bacardi (descendent of the Bacardi founder, still a family-run company). Renowned for her passion of modern art and love of photography and movies, Monika Bacardi is a highly successful businesswoman who is now committed to producing films, through AMBI, on top of her numerous philanthropic activities.
AMBI Group is active in the distribution of various movie projects in Italy and throughout the world through its satellite company AI Entertainment, a company Iervolino founded in 2011. Iervolino still runs this operation as well as several movie production and distribution companies in Italy, Spain and Canada.