Last updated on July 27, 2015
ATOMIC AND THE UNDEAD TEAM UP:STUDIO PICKS UP MEXICAN ZOMBIE FESTIVAL
WINNER FOR NEW SERIES
(Vancouver, BC) – Atomic Cartoons announced today an agreement to develop  Mariachi Zombie, a new animated comedy series for kids seven to 11. Plans are in the works for 52 x 11′ episodes integrating the best of zombie and mariachi culture. The series is the creation of well-known Mexican director Celso Garcia (The Thin Yellow Line) and Lorena Machuca of LUNCH MEDIA based in Guadalajara.
Mariachi Zombie first came to Atomic's attention after it took home first prize in Ideatoon, a TV series pitch contest, during El Festival, the annual animation festival in Cuernavaca, Mexico.
The stories revolve around the colorful, albeit reanimated 'dead' character, Mariachi Zombie, who's music (and peace) is frequently interrupted by the neighboring humans intent on getting rid of the zombies.
This series turns the expected zombie-stereotype on its head: in this fresh take on the trope, zombies are the good guys of the story.
"This quirky show really appealed to me because of my love for Mexican music and folklore-rich storytelling," said Rob Davies, VP of Development at Atomic Cartoons, "Plus, the series concept opens itself up to a world of comedic possibility. Simply put, there just haven't been enough series for kids about the musical undead. It's a no-brainer, pun intended. Making the zombies the protagonists for once is a refreshing twist that gives us a lot of opportunity for story and laughs and we are really looking forward to
developing this fun property."
Atomic Cartoons is a full service independent animation company with studios in Vancouver and Kelowna. The winner of two 2015 Canadian Screen Awards, Atomic creates and produces both original properties such as Atomic Betty and Pirate Express, as well as co-productions like Little Charmers and Rocket Monkeys.
LUNCH MEDIA is a Mexican company based in Guadalajara, Mexico, founded in 2011 by Celso Garcia and Lorena Machuca. The company develops film projects, animated productions, video games, and Intellectual Property and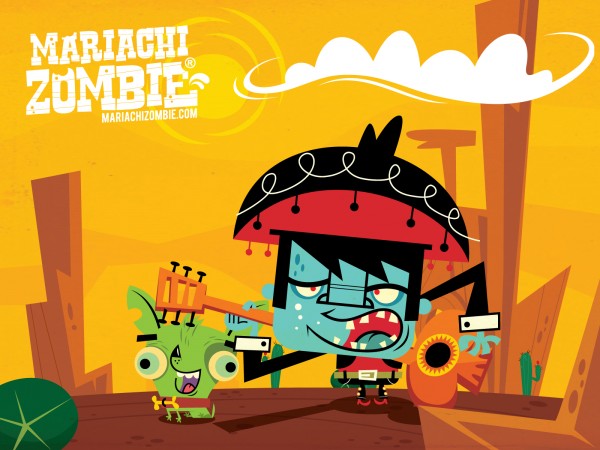 Audiovisual production.