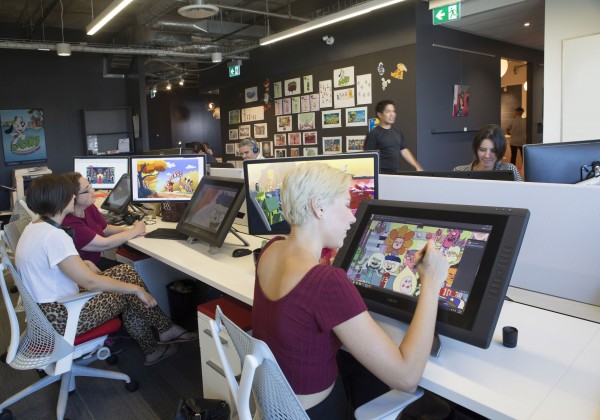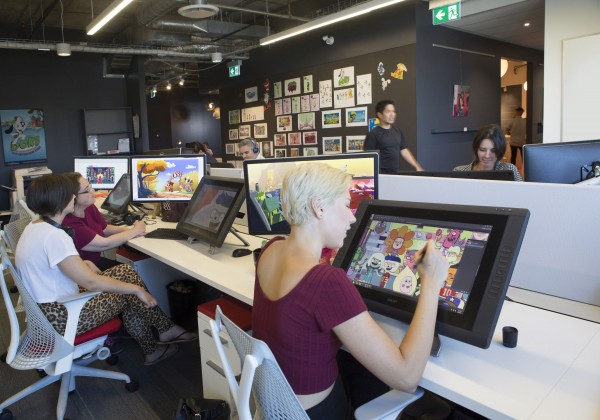 (September 21, 2015 – Toronto, Canada) – Producer and distributor Portfolio Entertainment is pleased to announce the launch of Portfolio Animation, a creative-driven animation studio equipped with top-tier talent, cutting-edge technology and commitment to excellence. The studio is part of Portfolio's multi-faceted expansion plan that commenced in 2014 with the installation of a new senior management team to drive the company's growth and diversification strategy.
Situated in the creative hub of Toronto's King West district, the new ultra-modern studio encompasses 9,000 square feet. Portfolio's corporate office has also relocated to this facility.
The launch of Portfolio Animation builds on the company's distinguished track record in production, distribution and brand-building of award-winning animation content, including international success stories, The Cat in the Hat Knows a Lot About That! and DOKI. Senior Vice President of Production Julie Stall is at the helm of the new studio, along with Head of Studio Operations Sonya Carey, while Dave Beatty is the Senior Producer and showrunner for the studio's first series Freaktown.
Portfolio Animation has hit the ground running with three projects in its pipeline. The company is now meeting with co-producers and networks globally to bring more projects under its collaborative roof.
"We are very excited to be growing our core business with the launch of Portfolio Animation. What sets Portfolio Animation apart is our hand-picked team of extraordinary talent, booming energy and the company's two decades of production and distribution experience. Our goal is to incubate creativity, foster collaboration and deliver incomparable content," said Lisa Olfman, CEO and Co-Founder, Portfolio Entertainment. "Through innovation and playful experimentation, Julie, Dave and the in-house team of artists create, shape and realize a shared vision with each partner, while ensuring outstanding quality, value and efficiency."
The studio's concept development, design, storyboarding, animatic editing and full animation services are complemented by Portfolio's distribution arm, which brings international sales and marketing expertise to each project and ensures global success beyond the first screen.
For Portfolio Animation inquiries, please email studioinfo@portfolio-ent.com
About Portfolio Entertainment
Portfolio Entertainment produces and distributes kids, factual and unscripted entertainment to television and digital media content providers worldwide. With two decades of industry experience, the company has a vibrant, creative culture and an entrepreneurial edge. Portfolio's most notable projects include the celebrated The Cat in the Hat Knows A Lot About That!; Freaktown, an entirely new property set to launch on Teletoon in 2016; the dogumentary For the Love of Dog; and the MOW Stolen Miracle. Pivotal since start-up, Portfolio's international distribution division represents a diverse catalogue of original and third party programs and has earned a reputation for superior content, diligence and drive. Portfolio was founded by Lisa Olfman and Joy Rosen and is based in Toronto, Canada.