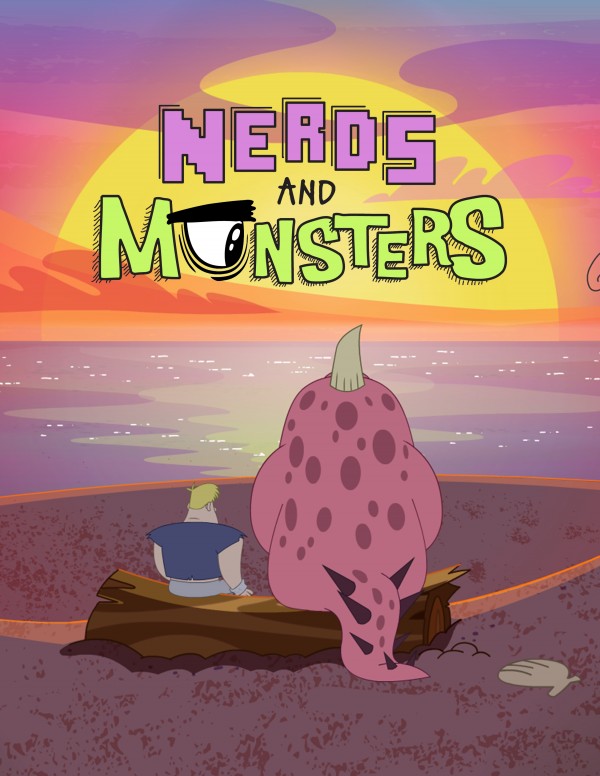 SLAP HAPPY CARTOONS'  NERDS AND MONSTERS SEASON TWO PREMIERES SATURDAY JANUARY 9th at 10:00 a.m. ET/PT ON YTV
(Jan. 6, 2016 – Vancouver, Canada) – Vancouver-based animation studio Slap Happy Cartoons Inc. is pleased to announce the premiere of the second season of their animated series Nerds and Monsters on Corus Entertainment's YTV, debuting Saturday, January 9 at 10:00 a.m. ET/PT.
The 40×11-minute series is an animated comedy aimed at 6-11 year olds that tosses a group of nerdy kids on a fantastic uncharted island. The tween castaways must use nothing but their smarts to survive the relentless attacks by the island's inhabitants – a tribe of hilarious and hideous monsters that are mistakenly threatened by their human invaders. Lucky for the nerds, these dim-witted monsters don't have any smarts!
"We're excited to present the second season of Nerds and Monsters," said Greg Sullivan, Co-creator and Partner at Slap Happy Cartoons. "Both the nerds and monsters end up in crazy and ridiculous situations this season, and we can't wait for kids to tune into the madness."
"This season of Nerds and Monsters is full of weird and wonderful surprises," said Jamie Piekarz, Director of Content, Corus Kids. "So keep your eyes open, starting with Saturday's premiere on YTV's The Zone Weekend."
Beginning January 16, the series will air in its regular timeslot, Saturdays at 8:00 a.m. ET/PT on YTV.
Nerds and Monsters is distributed by 9 Story Media Group, and produced with the financial participation of the Shaw Rocket Fund.
Social Media Links:
#nerdsandmonsters
Website: www.nerdsandmonsters.com
Facebook: facebook.com/nerdsandmonsters
Twitter: @nerdsmonsters
Youtube: youtube.com/nerdsandmonsters
Instagram: instagram.com/nerdsandmonsters
Slap Happy Cartoons Inc. has offices in Vancouver, B.C. and Los Angeles, Calif. Founded by top animation professionals Kathy Antonsen Rocchio, Greg Sullivan, Josh Mepham and Vito Viscomi, Slap Happy Cartoons works with a global base of clients, which include development and production partners Comedy Central, Renegade Animation, Warner Brothers Cartoons, DHX Media, Canucks Sports and Entertainment, Knowledge Kids, Floyd County Productions, and Disney XD. With a wealth of experience from working on award-winning animation productions, the founders launched Slap Happy Cartoons to realize their shared vision and passion for creating original, funny – and sometimes twisted – cartoons for both kids and adults. Visit Slap Happy at www.SlapHappyCartoons.com and Nerds and Monsters at www.NerdsandMonsters.com.
9 Story Media Group Inc. is a leading content creator, marketer and distributor of kids & family focused intellectual property. Recognized around the world for best-in-class brands such as Daniel Tiger's Neighbourhood, Wild Kratts, Numb Chucks, Arthur and Peg + Cat, 9 Story represents over 2,150 half hours of animated and live action programming, seen on some of the most respected international channels and platforms.  With one of North America's largest animation studios, 9 Story employs over 250 creative and production staff in its Toronto facility and has produced over 900 half hours of award-winning children's content. 9 Story recently acquired the award winning animation studio Brown Bag Films, which employs over 170 staff members across Dublin, Manchester and Los Angeles.  Brown Bag is recognized for producing leading animated children's series such as Octonauts, Doc McStuffins, Bing Bunny and Henry Hugglemonster.  9 Story is owned by senior management, ZMC (Zelnick Media Capital) and media entrepreneur Neil Court.
About Shaw Rocket Fund
The Shaw Rocket Fund is a forward thinking, independently governed not-for-profit organization dedicated to investing in quality Canadian children's, youth and family content with financing and initiatives that support the growth of the production industry such as the much celebrated Shaw Rocket Prize. Contributors to the Fund are Shaw Communications, Shaw Pay Per View Ltd., a division of Shaw Cablesystems GP, and Shaw Direct.
About YTV
Celebrating 25 years in television, YTV is a leading cross platform entertainment brand for kids and families. The channel offers quality entertainment with hilarious animated and live-action comedy series, popular Nickelodeon series, blockbuster movies, top-rated original Canadian programming, music, celebrities and the channel's after-school block, The Zone. Through its multiple platforms and exclusive digital and interactive content, YTV is the voice of Canadian youth culture. YTV is owned by Corus Entertainment Inc.