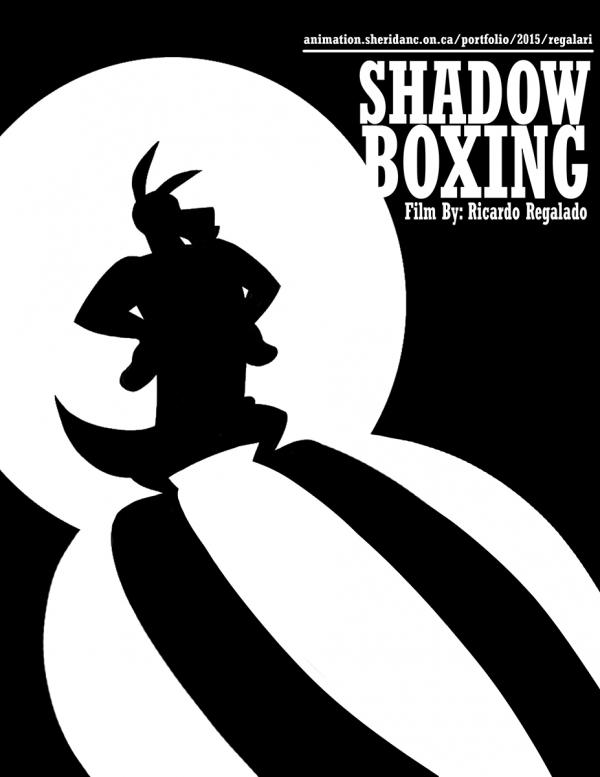 Another gradfilm showcase today is ShadowBoxing by Ricardo Regalado. In a mood for a silent film? Take a look and also check out the interview to follow below.

Kyu: Hi Ricardo, thank you for agreeing to do the interview. Can you tell us bit about yourself?
Ricardo Regalado: I was born in Merida, Venezuela and have moved throughout many parts of the United States in my childhood. I Moved to Toronto when I was 15 and have been in Canada ever since. Animation as a possible career never occurred to me until very late in high school. Luckily, my family and I moved to an area where the animation industry is booming. I certainly wouldn't have had much opportunity had I stayed in Venezuela. I currently reside in Hamilton working on the show "Fangbone" as an animator.
K: What was the inspiration behind Shadow Boxing? Do you do any boxing yourself?
RR: I don't box myself. I have tried other sports for a little while such as wrestling and American football. Boxing really became interesting to me one day when I watched a match with my father on HBO between Manny Pacquiao and Juan Manuel Marquez. What I saw that day was not a fight in a traditional sense but a kind of of back and forth chess match between two high caliber athletes. I didn't notice how much damage they were inflicting on each other as much I kept noticing their counters and steps to place themselves in just the right position to land a blow. I saw it as kind of a dance. As I was trying to get ideas for my grad film I knew I wanted to create something that allowed me to study boxing movements. But I also wanted to incorporate animation tropes that I loved watching as I grew up.
I grew up watching a lot of the old Popeye cartoons. They always made two guys fighting look funny to me. As for an opponent for the main character, I decided to a play on the old training technique called "shadow boxing". The idea of the drill is essentially to fight an imaginary opponent and in many ways to fight yourself. What better opponent for a fighter than his own shadow.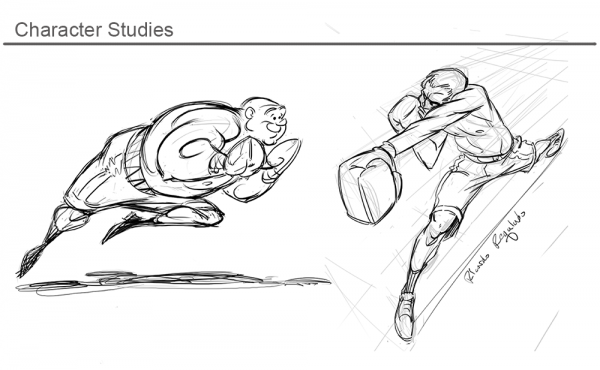 K: Shadow Boxing has the old time-y silence film feel to it. Did you find any limitation with having no sound design or colour?
RR: Lack of color didn't limit me. I knew early on I wanted something more grayscale to play with the composition of the shadow movements. As for sound, I decided a strong musical number was enough to carry the story along, much like the old Chaplin films.
K: What was the general process of making the film and what was the most challenging part for you? Also, what was the decision behind keeping the animation rough?
RR: Animation was done on in Toon Boom Harmony. Much of the storyboarding process was done in Photoshop. I went through a lot of revision during the storyboard stage. I'd have to say the hardest part was creating a story from scratch. The blank canvas can be a very daunting sight for an artist.
The reason I kept animation rough was simply because I wanted more of a pencil test feel. I didn't want to tighten up with cleanup and just stay loose throughout the whole process. I used to joke that it was a glorified pencil test. I created the film to really focus and enjoy the process of animating. Animation for animation's sake if you will. I just wanted a film to enjoy frame by frame animation. I knew this might have been one of my last chances to enjoy the frame by frame process since much of the industry is turning to rigged characters for production whether they are 2D or 3D.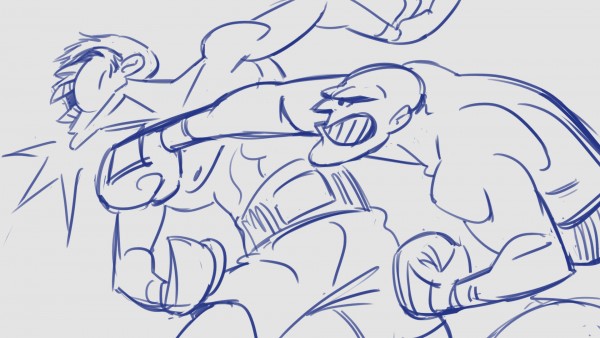 K: You are coming up to a year since your graduation from Sheridan College. How was your experience working as a professional so far?
RR: I have learned a lot in the last 8 months about television production. The way of thinking is very different in a studio than it was in school. It was a big learning curve but I enjoyed learning a new medium. 2D rigged characters are getting more sophisticated and can create a lot of nice end results. It was a really new tool for me to wrap my head around but learning something new can be a very enjoyable process. The technology gets better every year and so do much of the shows produced. TV animation is becoming much more fluid and dynamic. It's exciting to be part of a new wave of cartoon shows that is pushing animation quality and creativity.
K: Do you have any advice to give to the students graduating soon?
RR: Learning definitely doesn't end at school. Even now at work I feel like a student learning and honing my craft. There is always more to learn. Enjoy your time in school and enjoy your film process overall but it definitely does not end there. Everything does change and progress after school.
K: Where can people go to see more of your work? (blog/website/portfolio site etc.)
RR: I have my current portfolio at this link: http://animation.sheridanc.on.ca/portfolio/2015/regalari/
After some time I will be updating the portfolio with industry work.
K: Thank you Ricardo for answering the questions
RR: And thank you for your time as well.