The Little Prince's Bumpy Ride, or: Distribution's a Bitch.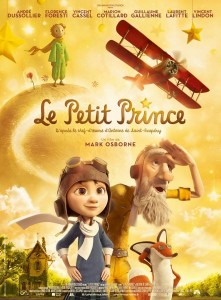 Some of you went out to your local theatre last weekend and treated yourself to a screening of the latest retelling of the classic Antoine de Saint-Exupéry story, the Little Prince. It's a great looking movie, a  CG/2D/Stop-Motion Animated Feature Film directed by Mark Osborne (Kung Fu Panda) with Production Design by Lou Romano (The Incredibles) and Character Design by Peter De Sève (Ice Age). It was produced by Onyx Films and animated at Mikros Image Canada in Montreal. So it's got all kinds of Canada in its DNA.
And here, in Canada, it is distributed by eOne. So it's in theatres. Which is awesome
Distribution can be a tricky thing when you're not a Disney or a Dreamworks. You have to sell your movie into territories all over the world and you have to find distributors who can do that, and do it well. Thankfully, Wikepedia's got some solid info for this movie, I'll just cut and paste it here.
Wild Bunch is overseeing international film sales. Paramount Pictures released the film in France on July 29, 2015, and will also handle distribution in the United States,[24] Entertainment One in Canada,[39] and The Weinstein Company in the UK, Australia and New Zealand,[40] though as November 2015 there are not yet planned released date in all the above countries. Warner Bros. assumed distribution in Germany and Japan.[24]
So there's that cocktail. Which is a pretty good mix for an independent feature. Wikepedia's also got some info on how the film's been received.
The Little Prince made its U.S. premiere at the Santa Barbara Film Festival on February 3, 2016. It was the first animated movie to open the Santa Barbara Film Festival since the festival started in 1985.[41]
Off to a good start. Here's more.
As of September 20, it has grossed $12.1 million in France[44] and, as of December 1, $67.6 million worldwide.[45] In its opening week in France, The Little Prince earned $3.3 million from 727 screens debuting at No. 2 at the French box office and its opening was 12% ahead of Disney's Big Hero 6.[46] In its second weekend it grossed $1.4 million (down 41%) from 830 screens for a two weekend total of $5.5 million.[47] The film debuted at No. 2 in Brazil on August 20, behind of Mission: Impossible – Rogue Nation, with 330 thousand tickets sold.[48] In its second weekend, it topped the box office with over 851 thousand tickets sold, making history in Brazil as the first non-American animated film to lead the box office in the country. The film kept the first place at the Brazilian box office for three consecutive weeks.[49] As of October 5, the film has grossed over R$27 million (US$7.14 million)[50] and as of October 18, it reached over 2 million admissions in Brazil.[51] The film opened in China on October 16,[52] where it grossed $10.9 million in its opening weekend ranking third behind Ant-Man and Goodbye Mr. Loser,[53][54] and has grossed a total of $20.9 million in 10 days.[55] By its third weekend, it had grossed US$24 million.[56] It was number-one on its second weekend in Japan.[57]
All this sounds really great!
The film has earned $88.4 million on a $77.5 million budget,[14] becoming the most successful French animated film abroad of all time.[18]
Ok, so it's already earned back its budget and then some, and it hasn't even come out in the US. I don't know if Canadian box office is in that more recent total. And how has it been faring critically Wikepedia?
On Rotten Tomatoes, the film holds a rating of 93%, based on 29 reviews, with an average rating of 7.6/10.[58] On Metacritic, the film has a score of 73 out of 100, based on 7 critics, indicating "generally favorable reviews".[59]
Cool. So it's good.
Then this:
The film was to be released in the United States on March 18, 2016 in RealD 3D.[16] However, on March 11, a week away from its release, Paramount dropped the planned release for the region, no immediate reasons for this was given.[42]
This news has been all over my various feeds. It's been reported by a number of major outlets as well.
Deadline: http://deadline.com/2016/03/the-little-prince-release-scrapped-paramount-mark-osborbe-le-petit-prince-1201719429/
Variety: http://variety.com/2016/film/news/little-prince-paramount-distribution-1201728743/
Gizmodo: http://io9.gizmodo.com/wtf-paramount-has-dropped-the-little-prince-a-week-be-1764453209
the Hollywood Reporter: http://www.hollywoodreporter.com/behind-screen/paramount-wont-release-little-prince-874817
Cartoon Brew: http://www.cartoonbrew.com/feature-film/paramount-mysteriously-dumps-u-s-release-little-prince-137927.html
There's been a lot of speculation as to why Paramount would drop the film at the last minute like this, but that's all it is. Paramount has offered no comment. The company doesn't have a super strong track record distributing animation, but they've got Anomalisa in theatres, so someone there clearly is willing to get behind independents. But it may be that this one's not a surefire hit to their marketing department. It's not an Anomalisa. That one's an art house film, and they have a formula they can apply to the marketing spend. It's a family film, but it's not a Zootopia. These guys get skittish. Distributors dump millions into marketing, and frankly, this film could tank out in the states. So they bailed.
Which may be the best thing that could have happened for the movie, because Netflix has picked it up.
Deadline: http://deadline.com/2016/03/netflix-picks-up-the-little-prince-after-paramount-drops-animated-pic-1201722477/
the Hollywood Reporter: http://www.hollywoodreporter.com/news/netflix-picks-up-little-prince-876622
Cartoon Brew: http://www.cartoonbrew.com/feature-film/netflix-picks-u-s-rights-paramounts-little-prince-138078.html
They haven't given a date yet, but commenters are already calling them heroes. I have no idea how Netflix structures a deal like this, but they wouldn't be picking it up if they weren't confident they can get an audience. Their analytics are too solid. And my thinking is that they can reach this movie's audience way better than Paramount can. They don't have to worry about not filling theatres, they don't have to decide between limited and wide release. They just release.
So congratulations to the team behind the Little Prince. I think I'm going to the movies this weekend.