Last updated on April 29, 2016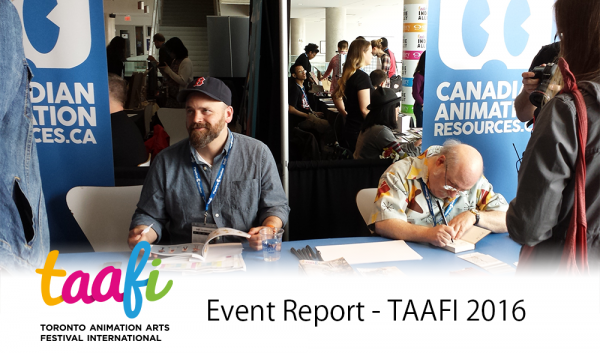 Happening this past weekend, (April 22-24, 2016) was the third TAAFI festival.
TAAFI opened on Friday with 3 workshops and the opening ceremony including screening of Spark (Toon Box Entertainment). I wasn't able to attend the opening ceremony this time around so if you were I'd love to hear how it went. Feel free to comment below!
As usual, I'll share briefly what I checked out on the weekend.
I attended TAAFI on Saturday starting with Keynote with Willie Ito and Tony Benedict. They talked about their careers from how they began and ended up working together at Hanna-Barbera. The experience they shared were from their very own personal experiences, it was a pleasure to listen to the detailed stories that you won't find in animation history books.
Allison Rutland's talk about animating on Inside-Out, she showed shot progression of couple of scenes she worked on the film. Allison was very good at explaining the thought process and approach when she was animating Riley's crying scene in the class room. I always love seeing how other animator's approach their scenes and the research that goes behind in making the characters believable.
Tinman Creative studios' Super Science friend talk was also great. It's exciting to see stuff happening from a Canadian studios and especially local ones in Toronto. They talked about bit of the show's conception from the mind of Brett Jubinville and how it got developed and produced at their own studio without the traditional route of going through TV networks.
Near the end of the day, I went to the world premier screening of Nova Seed, a 64 minute long, single-handedly created feature film by a Sheridan College Alumni Nick DiLiberto. This wasthe highlight of the festival for me. If you are familiar with Nick's past short Medusa (2010), you'll know what to expect here but much more grandeur in scale. Through Q&A after the screening, Nick talked about how Akira and other anime influenced him so much so that he moved to Japan to be part of the culture. After working and saving up for a while, he spent past 4 years in making this beautiful traditionally drawn(Pencil on paper) film all by himself.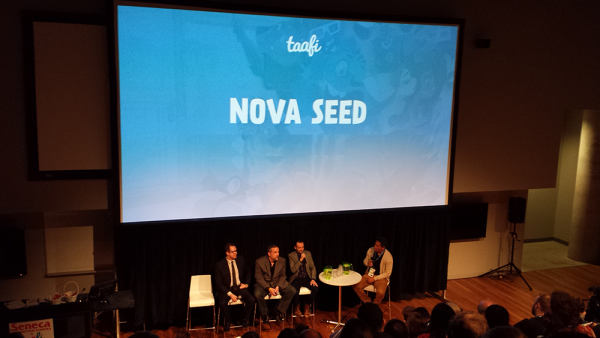 The film will be around for festival circuit with help of House of Cool studio so if you ever see the film screening in other places, don't miss it! For now, check out the official trailer below.
The Saturday of the festival ended with Nelvana Bouncing ball party, it was good time to catch up with some people I haven't seen in a while and we were treated with some rocking music by Transformers themed band, The Cybertronic Spree.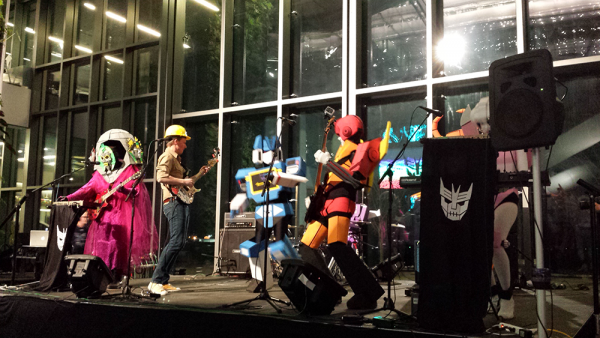 The next day, Sunday opened strong with a talk by Eric Goldberg showing various of his past work that weren't available publicly. His commercial work background showcased quite a bit of range in his ability to adapt to different styles and sensibility. My favourite bit of animation he showed was series of flip books he made when he was in highschool. These simple flipbooks showed even at a early age, he had a great sense of animation principles and more importantly, storytelling with humor.
In Michel Gagne's talk he continued to show some materials he couldn't get through on his Friday Workshop. He talked at length about his video game, Insanely Twisted Shadow Planet, His personal story Saga of Rex and bit of his FX work on Gearbox Software's Battle Born. It was unfortunate the talk wasn't much longer since he had tons of materials to show.
Michael Rianda shared through his talk what it was like being a creative director on Gravity Falls season 1 and boy can that man entertain! Michael was so much fun to listen to, there was no doubt his personality was a big part of the show's success. He shared some stories from Alex Hirsh's his life that contributed in giving unique flavour to the lovable characters in the show. It was one of those talks that you just had to be there to really hear the information delivered through Michael's fun presentation approach. I really wish I was able to attend his 3 hour workshop on Friday.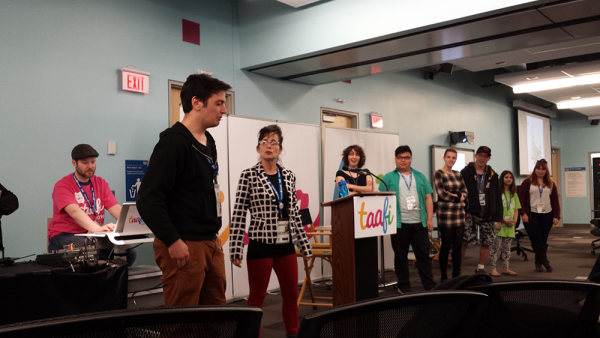 Last talk I ended TAAFI on was Stevie Vallance's two hour seminar on voice acting for animation show. With help of volunteers from the room, she showed how you can approach the voice acting that gives the characters genuine personality that comes from your gut rather than over thinking them. She showed number of exercises that was effective in doing number of different character voices very quickly. I haven't been to any voice recording sessions on TV shows yet so it felt like I was getting bit of behind the scene in voice directing that goes on in the sound booth.
Other than the talks, screenings and panels that were happening on certain days, the Animation Arts Market and Indie Ally was also set up all day Saturday and Sunday. Floor 1 at the venue was fill with tables and the people representing the studios. There were quite impressive number of studios were there so if you were looking for a job or looking for get some feed back of your portfolio, that was a great place to be. The Indie Ally on 2nd floor was very bare, even less tables than TAAFI 2 years ago. It would be nice to see more involvement from both the festival and the artists to fill the festival with more art in the future. In the lower floor, there was costumed life drawing happening in the open space. It was nice way for people to relax and keep flexing those drawing muscles during the event.
Overall, it was amazing festival to be social and get inspired. Unfortunately, the attendance seemed low. On one hand it's good because the rooms weren't too crowded but on the other, it meant the energy in the festival wasn't as loud as it could be and this amazing local event could use all the support we can give. Part of reason for the low attendance I assume is TAAFI 2016 happened earlier in the year than last time TAAFI was held which was in June. I'm sure many students are busy finishing up the semester to come out this weekend especially if the graduating students are surely rushing to get their portfolio ready.
Well, that's it for me. Thank you for taking your time reading as always and I am be off to put all this inspiration to good use.
Also, checkout of some professionally shot photos of the event over at Canadian Animation Blog HERE
Approaching very quickly is Sheridan Industry day 2016 and Schoolism LIVE Toronto in May 7-8. So much good stuff happening all at once it's bit over baring. If you are going to either of those, I'll see you soon.
-Kyu