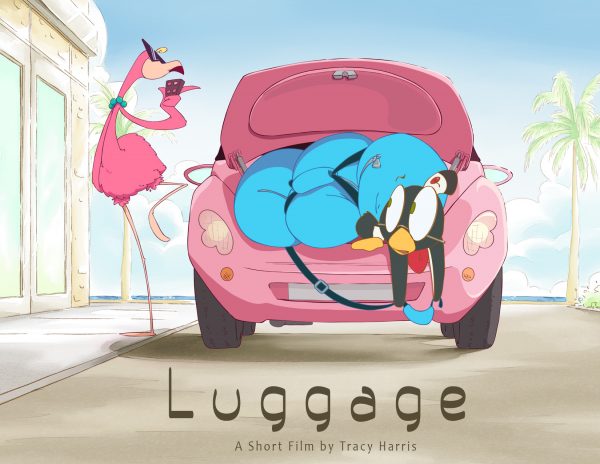 Grad film season is upon us yet again. With Calart films popping up on the web and Sheridan Industry day 2016 happening very soon, lets warm up with one from last year, Luggage (2015) by Tracy Harris.
Interview to follow after the video.
Kyu: Hi Tracy, thank you for agreeing to do the interview. Can you tell us bit about yourself?
Tracy Harris: I'm born and raised in Edmonton, Alberta and I moved to Southern Ontario when I was accepted into Sheridan College's Animation program.  I'm currently working as a character animator on FANGBONE! at Pipeline Studios.  Oddly, this is my second career.  I graduated from Grant MacEwan University in 2006 with a diploma in Business Management.  I worked with taxes for several years before deciding to do something completely different!  Not the background you'd expect from an animator, haha.
K: What was the inspiration behind the story of "Luggage"?
TH: I really wanted to make a film full of animation.  I also wanted to create something I would have fun working on and would be simple and enjoyable to watch.  I didn't want anything too complex, just a basic objective + obstacle challenge.  Both of my characters were something I'd created prior to my film and Pendleton (my penguin) helped as a starting point because his character had always been a bellhop.  Since their designs were easy to handle and animate, I decided to explore what kind of situations I could get them in to.  Luggage is the end result.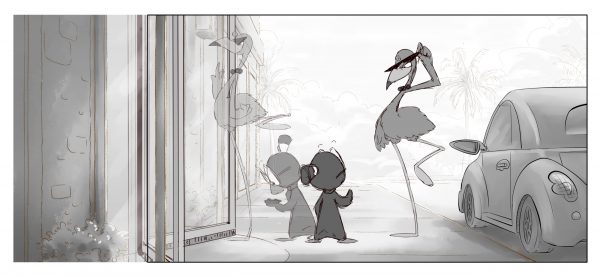 K: "Luggage" has very solid animation and comedic timing. Were you influenced by anything in particular?
TH:  I was trying to channel some Warner Brothers' cartoons and shorts that I'd enjoyed when I was little.  Like how Coyote simply wants to get the Road Runner and it's just a comedy of errors.  It was that sort of feeling I was trying to keep in mind.  Coyote & Road Runner shorts, as well as Donald Duck shorts (from the Disney side of things), were my favourites to watch, because they were energetic, gag-filled, and over the top.  I wanted to infuse that into my film.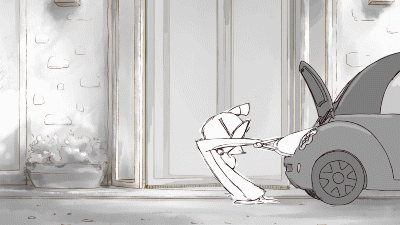 K: What was the general process of making the film and what was the most challenging part for you?
TH: I tried to make sure I worked within my own style and kept to programs I was comfortable with, so I could keep my focus on animation.  I spent a lot of time at the very start getting my story solid and locked so it wouldn't be an issue later on.  I pestered a number of my teachers in the first few weeks to help me get there and then I never tinkered with it.  I used Storyboard Pro for my boards, ToonBoom Harmony for animation, Photoshop for layout, and Sai for BG line and paint.
The most challenging part for me was actually my background style.  I had no idea how I wanted to paint them and I really didn't like how I normally painted.  I avoided it until near the end of Christmas break.  I went tutorial hunting for a while to see if anything could get me going on a look and I eventually found a little watercolour-looking 'how to' for Sai that I liked.  I gave it a try, it turned out pretty good, and I stayed with it.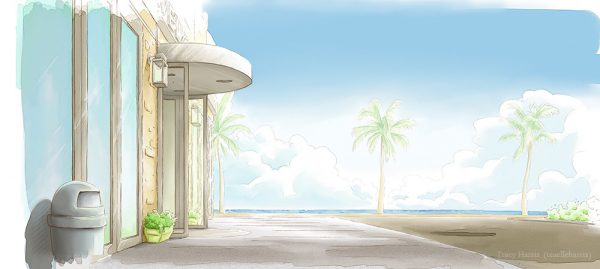 K: You submitted "Luggage" to couple of festivals. What was that experience like? Have you attended any festival the film was accepted into?
TH:  My film's been shown at the Edmonton International Film Festival, Oakville Festival of Film & Art, and is showing as part of ViewFinders: Atlantic Film Festival for Youth in several cities in the Maritimes this spring.  I was able to attend my screening in Oakville, which was exciting.  You don't really know how a new audience is going to react and I'm always so relieved when they laugh!  My family attended the screenings in Edmonton. Being from Edmonton it was really special for me to be able to send my film 'back home' for everyone to see.
K: You are coming up to a year since your graduation from Sheridan College. How was your experience working in the industry so far?
TH: It's been a whirlwind!  The learning curve(s) you go through in your first year in the industry has no comparison to what was expected in school.  It's much more dynamic and fast paced, especially in the first few months. It's been a great challenge and has been very rewarding.  I also enjoy what I'm animating and that's a great bonus.
K: Do you have any advice to give to the students graduating soon?
TH:  Stay calm (or at least try to!) and enjoy your film and graduation time.  Don't weigh yourself down too much with worries over how ready you are.  Everyone about to hire you knows you're brand new, just like everyone last year was brand new, and the year before, etc, so they understand your current limitations.  It's been said before, but school is honestly just the beginning.  Once you get into the work force, you're going to be pushed, challenged, rewarded, and continue to grow as an artist.  Look forward to that.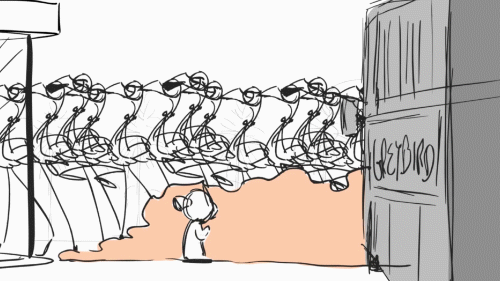 K: Where can people go to see more of your work? (blog/website/portfolio site etc.)
TH:
K: Thank you Tracy for answering the questions!
TH:  No problem, thanks for asking!