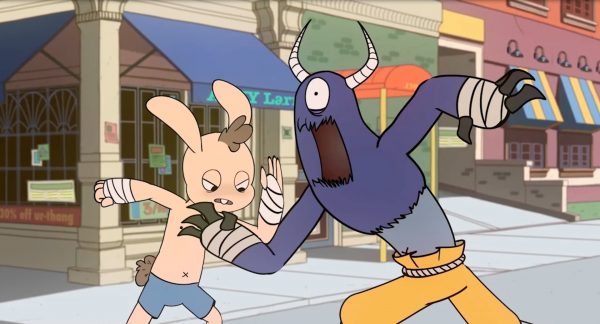 A few months back I was visiting my hometown, Ottawa, and booked in a few hours to go and pay a visit to my pals over at Algonquin College. I taught there for a while, about 6 or 7 years ago. I had a strange cross section of classes. Acting for Animation, and Business of Animation. They sound like opposite ends of the spectrum, but strangely, I appear to be a good fit for both. I had a blast. It was, and remains to this day, one of the most fulfilling work experiences I've ever had.
So Paul and Neil set me up in one of the classrooms to talk to a group of third years. I was uncharacteristically nervous, as it's actually been a few years since I've done this kind of thing. I mentally dusted off bits of a career talk I used to give and introduced myself to the class. And it was great. Really great. The students engaged with me, and it turned into the kind of talk I clearly needed to hear as well. I shared some perspective, my own career regrets, and what become my unofficial refrain: hope.
Afterwards, a few students stuck round to say hi in the hall, and thanked me for providing a bit of inspiration. Algonquin has refocused their curriculum, appropriately so for them, away from making films, and more into specialized service areas for their students. It's the market they feed, so a very good move for them. These kids were trying their best to finish a film for the end of the year though, and my little chat seemed to have struck a chord with them. Which is awesome and flattering and fuels my barely-controllable ego.
But here we are at the end of the year, and I'm posting links to various Sheridan gradfilms, and what pops up in my inbox? An email from Steven Woolley, one of those grads I met in the hallway at Algonquin. And guess what? They did it. And it's good. I'm going to show it to you, along with a write up I asked him to do so you guys could learn a bit more about how it got here.
I'll shut up now.

JackTheRabbitCMP from Link-In on Vimeo.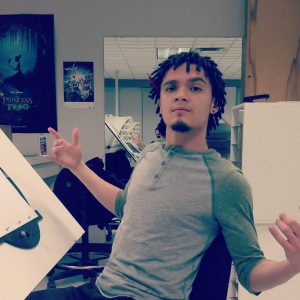 From Steven Woolley:
I was that weird kid in the back of the class sketching Dragon ball Z on a pad.
I couldn't care less about an exam. Drawing had me in a trance.
growing up I didn't have cable or internet, so I would go to the public library and print out a bunch of character sheets, I would try to redraw them as similar as possible. Some of the kids around me saw this and thought it was awesome. The positive feedback made me feel as if I had something to offer. I started selling my drawing for 50cents a page, by the end of the school year I had enough to buy a how-to-draw-cartoons book.
So I drew and drew.
Soon enough I started making comic books. My first was Blue Duck, then Spooky and eventually in 4th grade I made a comic called Jack the Rabbit. This one was different because my cousins where always pushing me to do more, they were invested in the story and characters, so the comic book ended up being 30 pages. I eventually started high school and school work and friends took most of the time. But when I started college, I was given an opportunity to create a third year film. I found my old comics and started redefining the characters and story.
The Hurdles
In the beginning I did not have any support. A lot of people thought it wouldn't be completed in time. I read that this is common but it wasn't discouraging. I had it in my mind that I was going to get it done no matter what. Trying to convince people to join was hard. A vision is nothing with out proof. So I started making turn-arounds, storyboarded the entire film, recorded the music and began drawing and colouring the backgrounds. soon enough some of my class mates saw the amount of work and motivation I had to complete the film and eventually asked to join. Proof is in the pudding. It was such a blessing to get some help, because the deadline was getting close and I need some sleep. The team was awesome, everyone is super talented, and they actually enjoyed working on the film. We never had any arguments, I was hella lucky to have them. We managed to complete the film the morning before grad show. My buddy Jered Harrison and I stayed up all night working on the final compositing and effects. It was a crazy semester but we ended up pulling everything together.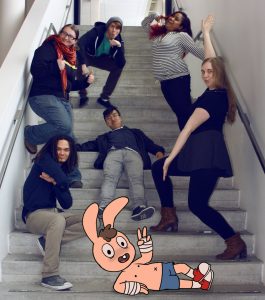 Credits
Steven Woolley: Director, Producer, Animator, Background Artist, Rigger, Storyboard Artist, Script Writer, Character Design, Location Design, "Jack the Rabbit" music performance. compositor, Editor.
steevenwoolley.wix.com/woolley
Jered Harrison: Effects Animator jeredharrison.wix.com/blog
Hieu Tran: Background art hieumtran.wix.com/blog
Larissa Gagnier: Animator larissagagnierportfolio.tumblr.com
Lotis Abogadie: Rigger lmabogadie.wix.com/blog
Steeve Woolley: Background Artist ( twin brother )
Amanda Burn: Animator amanda-burn.blogspot.ca
Kyra Groening: sound editing
Congrats guys. This thing is pretty badass.